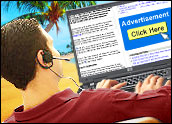 Interactive marketing firm Lyris, best known for its e-mail advertising services, has launched a portal meant to give online marketers a place to foster community and learn from one another.
Lyris plans to formally launch the LyrisHQ portal at the Ad:tech conference in San Francisco next week. The site is already live, offering content and interactivity around topics such as online marketing best practices.
The portal will be updated daily and feature blog posts on marketing; content devoted to specific online marketing channels, including e-mail marketing, Web analytics, site optimization; guest editorials from industry leaders; and an opportunity for marketing professionals to post comments in response to the content they read.
Lyris "saw a need in the online marketing industry" for a place where "thought leadership" could be fostered and ideas shared, said Dave Dabbah, the company's vice president of marketing.
"We are looking to aggregate best practices from a variety of sources, and to give marketers a forum to share with each other their experience in using the menu of online marketing tools," he added.
Growing Concern
Content upon launch includes an article on the five biggest e-mail brand killers, a piece on the quality of Web site landing pages and a lengthy white paper on key metrics to consider in designing and evaluating pay-per-click (PPC) campaigns.
The Emeryville, Calif.-based company plans to feature content on topics such as e-mail marketing, search engine optimization and content management, exploring specific issues such as how to use day-parting to maximize the value of PPC expenditures and using rich Internet applications as a marketing tool.
In addition to becoming a gathering spot for online marketers, the portal also stands to help raise the profile of Lyris, which is best known for managing large-scale e-mail campaigns for a slew of large companies, including Visa, McAfee, Intuit and Alibaba.com. Through acquisition and in-house expansion, it has added Web-based offerings such as analytics and Web site content management.
Founded in 1994, Lyris dramatically expanded in 2005 when former parent company J.L Halsey rolled it up with other e-mail and Web marketing firms — EmailLabs, ClickTracks and Hot Banana — into a single company.
LyrisHQ is also the name of the firm's Web-based integrated marketing platform, which it launched in 2007 as a one-stop shop for clients to track e-mail, pay-per-click and Web content management.
Moving into other areas and broadening their offerings is a key for many e-mail marketing firms, many of which offer similar services and pricing, said Forrester Research analyst Shar VanBoskirk.
"E-mail marketing is a mature and still-crowded space and there isn't as much differentiation among the players as in some other areas of interactive marketing," she added. Smaller companies in particular are eager to find one-stop solutions that enable them to see across multiple types of campaigns and quickly analyze what's working and what isn't.
Collision Course
Lyris is in growth mode, meanwhile, with the company recently saying it would hire 70 more employees during 2007 and set a target of doubling revenue as it continues to attract blue-chip clients for its services, most recently signing American Apparel on to use its ListManager product.
By moving into pay-per-click and Web content areas, Lyris is aiming for the same targets as many of the major Web advertising players, including Google, Microsoft, AOL and Yahoo.
While e-mail marketing remains a cost-effective way to reach consumers and spending on the channel is growing, it is not expanding nearly as rapidly as other forms of marketing, eMarketer analyst David Hallerman told the E-Commerce Times.
"E-mail marketing is already nearly ubiquitous," he said, and though somewhat mature, spending on the channel will nearly double by 2011 to US$616 million. Other areas will see "much more dramatic growth" and are where marketing firms are funneling the bulk of their resources.