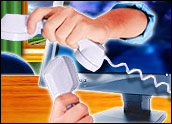 Lucent Technologies said Monday that it will pay about US$295 million to acquire Telica, a provider of Voice over Internet Protocol (VoIP) gear, in the latest deal to underscore the emergence of the Internet as a tool for traditional telecommunications.
Lucent will dish out 92.7 million stock shares and options to acquire the privately held firm, which is based in Marlboro, Massachusetts, plus additional, as-yet-undetermined cash payments to Telica employees.
With the acquisition, Lucent will target the telecommunications services provider market, hoping to become a major supplier of large-scale VoIP networks that can deliver voice, video and data services to enterprises and consumers using wireless and wireline networks.
"With market conditions stabilizing, we felt the time was right to make this strategic acquisition to complement our internal development at Bell Labs," said Bill O'Shea, Lucent's executive vice president of corporate strategy and business development. "Telica is a great match in the VoIP space."
Long-Term Play
Lucent suggested the move is a long-term play, saying it will dilute earnings in the current fiscal year and only begin to add to the bottom line in fiscal 2006.
Telica founder and CEO John St. Amand said his company already has broad reach, with 50 customers and 4 billion minutes of use per month on its voice networks. "As part of Lucent, we will be able to combine our strengths … to become the leading provider of VoIP solutions to service providers," he added.
St. Amand will remain with Lucent after the purchase closes in the fourth quarter. Lucent did not disclose its plans for the remainder of Telica's 250 employees.
Honing In
Infonetics Research analyst Matthias Machowinski told the E-Commerce Times that the VoIP market is very much up in the air. A recent survey by Infonetics found more than half of potential large-scale customers had not decided which provider would get their VoIP business.
That market uncertainty has providers eager to get an early edge on their rivals, Machowinski said, and could help boost investments in technology along the line of Lucent's deal.
Indeed, the Lucent deal is the latest in what is becoming a busy market for various VoIP technologies and offerings. Last week, Cisco Systems teamed with IBM to offer services and hardware to enterprises interested in the potential cost savings of using Internet Protocol to transport voice as well as data.
Machowinski said those moves should help drive adoption of VoIP, which has disappointed some early adopters.
"Companies look for one-stop shopping and one entity to blame when things go wrong," he said. "One of the main obstacles to adoption is the perception that current PBXs serve business' needs just fine. The promised cost savings aren't always there, especially in the early stages."
On the Move
Lucent has begun to spin a compelling turnaround story after getting hammered by the telecommunications industry implosion, which cost it many of its customers. Lucent's ability to withstand the downturn was hurt, some analysts say, by its decision to sell off its enterprise-facing division, Avaya, and focus on telecommunications providers.
Last week, the company agreed to pay a $25 million fine to the U.S. Securities and Exchange Commission (SEC) to settle charges that it overstated revenue in 2000. A year ago, the company settled scores of private lawsuits filed by shareholders who alleged the company misled investors at the beginning of the dot-com meltdown in a single deal worth $600 million.