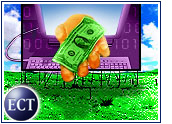 Loudcloud, the closely watched follow-up effort of Netscape co-founder Marc Andreessen, announced it will sell its core managed services and hosting business to tech giant EDS for US$63.5 million in cash.
In doing so, Loudcloud, which fought through the worst of the dot-com stock market rout to go public early last year, will abandon its original business model, which was based on both providing and hosting e-business software solutions.
"We said all along we wanted to be the EDS of the Internet, and now it turns out EDS will be the EDS of the Internet," Andreessen said in a conference call.
New Name, New Focus
When the deal closes in September, Loudcloud will emerge as Opsware, taking on the name of its flagship e-business software product.
Andreessen, who cofounded Netscape, helped take it public in 1995 in a then-record-setting IPO, and later became chief technology officer of AOL when that company bought Netscape for $4 billion, will retain his position as Opsware chairman.
Selling the hosting business will let Opsware "focus solely on developing and selling our software," Andreessen said. "This will allow us to develop our product much more rapidly than before."
In addition, Andreessen said, Opsware's software development focus will help the company fulfill its goal of becoming the standard software for IT automation.
Licensing Deal
As part of the agreement, EDS will pay $52 million to Opsware over the next three years to license the company's software for its own managed hosting operations.
EDS also will take over Loudcloud's customer base of about 50 Web hosting clients, immediately making the company a force in the hosting space.
Strapped for Cash
Giga Information Group analyst Joel Yaffe told the E-Commerce Times that the deal seems promising for both parties.
Yaffe noted that Loudcloud has a strong product offering and that its biggest problem has been its financial position, which might have scared off some customers. Loudcloud raised $150 million from its IPO last year, but within weeks announced it was slashing its workforce to cut costs.
Yaffe said he had been optimistic that a recent deal between Loudcloud and Qwest Communications would give Loudcloud a boost and allow it to remain independent.
Ground Bound
Loudcloud never got off the ground on Wall Street. The company's IPO rose just 3 percent in a chilly market for tech stocks, and its shares have traded around the $1 level for some time.
Loudcloud shares gained on news of the EDS deal, climbing 24 percent to $2.02. EDS stock rose 2 percent to $49.10 in early trading Monday.