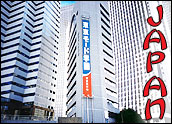 The offices of Japanese Web services firm Livedoor Co. were raided by investigators Monday night, sending the company's shares into a nosedive and prompting a reassuring message from company leadership, while potentially casting a new light on other Japanese Internet companies as well.
Livedoor issued a statement saying allegations that it violated Japanese securities laws by providing misleading information to shareholders are unfounded. That came after the company's shares fell 14 percent Tuesday. Major investor Fuji Television Network's stock tumbled as well.
Trickle-Down Effect
Softbank Corp., Japan's largest Internet investor, also took a hit, as did Yahoo Japan — losing more than 8 percent — as investors hedged against similar allegations hitting other fast-growing Web companies. In fact, the Livedoor news was blamed for the Nikkei Index's largest one-day drop in nine months.
Officials said they raided Livedoor's offices as well as the homes of some top executives seeking evidence that Livedoor released misleading information in conjunction with at least one of the acquisitions it has made in an effort to grow.
Reports indicated that questions were being raised about the company's 2004 buy of a publishing firm, with Livedoor said to have waited as long as six months to announce the purchase, a period during which it included revenue from the firm in its earnings reports.
Livedoor has been experiencing rapid growth, based in part on the expansion of Web use and Web advertising in Japan, but also on its aggressive business tactics, which included several acquisitions and a high-profile partnership with Fuji TV.
The growth helped drive Livedoor stock higher by 90 percent during 2005, well outpacing overall growth of publicly traded Japanese companies.
Reason for Concern
Analysts were split on whether the investigation was cause for concern about Livedoor's future, but some noted that if the company is found to have tampered with accounting data in any way, the scandal's reach could quickly spread, since the Japanese Web industry relies heavily on affiliate-marketing programs and partnerships.
Also, it is believed that Japanese investigators would likely not have conducted the raid without some strong evidence for doing so, given the ramifications, as evidenced by effects on share prices. The investigation could hamper Livedoor's acquisition strategy as well, by making potential partners more wary of linking with the firm.
Some said the company may have brought added attention to itself with a bold style that reflects the personality of CEO Takafumi Horie, known in some circles as the "T-shirt-wearing CEO."
In a news conference, Horie said Livedoor was conducting its own investigation but planned no changes to its aggressive expansion strategy.
"There are no problems with the business," he said.
Livedoor's core business is sales of concert tickets and travel, but it has expanded into other Web-services and e-commerce areas, forming standalone units such as Livedoor Auto.
Waiting Game
Past experience suggests that even late-night raids don't necessarily lead to immediate legal action by investigators.
For instance, Intel found itself the subject of raids at its European offices and those of some PC-maker customers in the summer of 2005 by regulators seeking information on possible anti-trust activities. However, European Union regulators have yet to forward any case against Intel publicly.
"Having offices raided indicates an investigation has made it to a certain point, but it could still have a long way to go before it's over," Gartner analyst Martin Reynolds told the E-Commerce Times. "These things are often long processes," he added, with results sometimes old news by the time they appear in public.
Meanwhile, some analysts said it was possible some Internet investors may get cold feet about their own stock purchases of other Web-related companies in the U.S. and around the world, but as details of the case emerge they would likely soothe those fears.
At the moment, at least, investors are much more focused on Yahoo's earnings, which will be released on Tuesday, said William Blair analyst Troy Mastin.
"There are quite a few things to be optimistic about with Yahoo and other Web stocks," he said.