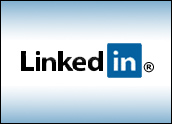 LinkedIn made a big splash on its first day as a publicly traded company. It's stock price soared into the stratosphere, far beyond its opening at US$45, which turned out to be a good call by LinkedIn executives, who previously considered offering it at $34.
The business social network sold 7.84 million shares at $45 each on Wednesday. Thursday was LinkedIn's first day of trading after its IPO, and its stock price more than doubled almost instantly. It debuted on the New York Stock Exchange at $83. At press time, the price sat at $95, but it had soared throughout the morning to a peak of $122.70.
Today's action values the company at around $10 billion, according to Marketwatch. CEO Jeffery Weiner's stake in the company is now reportedly worth $200 million.
This offering, which represents the biggest Internet IPO since Google, could be the first in a series of social networking IPOs, considering the constant rumors regarding Facebook, Twitter and Groupon.
LinkedIn offers a business-based social network with optional subscriptions. The company receives 70 percent of its revenue from subscriptions — a business model similar to that of Salesforce.com.
LinkedIn did not respond to the E-Commerce Times' request for comments by press time.
Smashing IPO Success
LinkedIn has benefited from the buzz surrounding social networking. As the first IPO of the sector, LinkedIn may be proving strong investor interest.
"LinkedIn provides a very valuable service to its users," Azita Arvani, principal of the Arvani Group, told the E-Commerce Times. "Especially in this day and age, where professionals are changing their jobs often, it is much easier to keep track of your professional network through LinkedIn.
"The fact that they were the first social networking company that went to public markets worked very well for their initial stock price and the follow-on skyrocketing rally," Arvani continued. "It was able to grab a lot of the pent-up demand in the public markets for social media companies."
This IPO can help LinkedIn achieve its full potential, as there are additional features it plans to implement.
"However, LinkedIn is still more like a social networking company, and less of Software as a Service for other purposes," noted Arvani. "There are a lot of things that they are planning to do but have not done yet. But the financial markets seem to have already rewarded them for their future plans."
Low-Key Approach Drives Revenue
LinkedIn's model has found success, and other social networks may try to duplicates aspects of it to improve revenues.
"LinkedIn mostly face competition from traditional job recruiters, online employment services — Monster.com, etc. — as well as online classifieds including Craigslist," Charles King, principal analyst at Pund-IT, told the E-Commerce Times.
"Given the aggressive market valuation of LinkedIn, it wouldn't be surprising if other social networks tried to develop similar competitive services," he suggested.
LinkedIn does not enjoy the addictive and fun appeal of Twitter or Facebook. There's no mechanism constantly pulling users back to engage — such as Facebook's news feed or social gaming, for example.
However, the fact that LinkedIn does not constantly hector its users is one of its pluses, in King's view.
"The company/site has succeeded by casting itself as an online locale where professionals are treated professionally," he said. "A desire to engage with site members more deeply and regularly would be understandable, but moving too aggressively could erode the goodwill LinkedIn has built with its member community. I expect the company will move judiciously in this regard by incorporating new services and partner offerings it believes will be valuable to its members."
LinkedIn as a site where people focused on their careers can build and refine professional relationships, noted King.
"Maybe that makes LinkedIn a 'Pro-Social Network,'" he said. "What's particularly interesting about the success of the LinkedIn IPO is how it seems to reinforce the value of individualized social networks focused on specific aspects on people's lives. Sure, Facebook would like to be all things to all people everywhere. But LinkedIn's success suggests that many people would prefer keeping their private and professional lives separate."