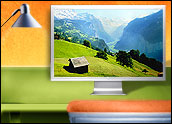 Antitrust regulators in the U.S., South Korea and Japan are investigating whether major providers of liquid crystal display (LCD) technology engaged in anti-competitive behavior.
Shares of LCD makers such as LG.Philips and Samsung Electronics plummeted in overseas trading after news broke that both Japanese and U.S. regulators were looking into complaints about price-fixing.
Huge Demand
LCD displays are used in a wide range of settings, including flat-screen PC monitors and a host of electronics devices from PDAs and cell phones to hand-held gaming devices. Worldwide, some US$70 billion worth of LCD gear is sold each year.
Driving the market now is demand among consumers for flat-screen TV sets using LCD displays. Several manufacturers have invested billions to build new plants capable of producing wider LCD screens, as the technology vies with plasma TVs for dominance in the high-definition, all-digital TV world.
The probe encompasses a number of companies in Japan, South Korea and Taiwan.
International Flavor
LG.Philips said late Monday that investigators from Korea had visited its offices in Seoul in connection with the probe. Samsung, which recently agreed to pay a fine to settle charges from U.S. regulators that it engaged in memory chip price fixing, said Tuesday it had been subpoenaed by South Korea fair trade officials looking into the LCD market.
Japan-based Sharp also said it was cooperating with probes in the U.S. and Japan, while NEC and IDTech both said their U.S. subsidiaries were being investigated by Japan's Fair Trade Commission and the U.S. Department of Justice over LCD sales practices.
The probe apparently centers on thin-film transistor or TFT LCDs. Samsung, LG.Philips and NEC are the top three worldwide producers of the screens.
A spokesperson for the U.S. Justice Department's antitrust division confirmed that a probe is under way, but said no details would be provided. Reports out of Japan, however, said regulators were focusing on possible price fixing. It is not clear whether or not the price fixing involves alleged collusion among multiple LCD makers or involves individual LCD makers using their market positions to force customers to pay above the market rate.
Still Reeling
The probes come as many LCD makers are dealing with a slowdown caused by over-production during a time of decreased demand. That over-supply has caused prices to fall and has led to several downgrades of the stocks of Samsung and LG.Phillips — the two largest LCD makers — in recent weeks.
In a statement, the European Commission (EC) said it was aware of the "inquiries … in other jurisdictions" but said it had not started a probe of its own. The EC noted that none of the major LCD makers is based in Europe.
Antitrust action has hit some electronics makers pocketbooks hard recently. A probe into pricing for dynamic random access memory (DRAM) resulted in Samsung paying a near-record fine of $300 million to U.S. antitrust regulators, with both Hynix Semiconductor and Infineon Technologies also agreeing to pay a total of $345 million in fines in connection with the same probe.
LCD makers have focused heavily on finding ways to lower component costs to make top-end products more affordable and to build ever-larger and crisper LCD displays, according to Gartner analyst Paul O'Donovan.
"Liquid crystal display is the dominant display technology, but others are emerging, albeit slowly," he said.
Revenue from thin-film LCD screens will still increase more than 30 percent this year and approach the $100 billion per year level by 2010, according to Gartner. The number of LCD TVs sold is expected to more than double this year, Gartner estimates.