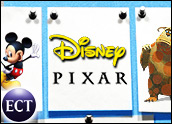 The Walt Disney Co. (NYSE: DIS) will pay US$7.4 billion to buyPixar, the groundbreaking animation studio co-founded byApple CEO Steve Jobs. The deal is noteworthy not only for the potential future benefits entailed in an Apple-Hollywood link, but also because it immediately vaults Disney back to the top of the industry it all but invented.
Jobs, who is also Pixar's CEO, will take a seat on Disney's Board of Directors and become the company's largest individual shareholder.
The deal, which unites two partners that have experienced a sometimes tumultuous relationship, was made official Tuesday following days of rumors that a buyout was imminent.
Making Magic
Pixar and Disney have a long and speckled history that began well with the two collaborating to release the box-office smash "Toy Story," followed by six other animation blockbusters. Since then, Disney has become reliant on its distribution deal with Pixar, which provided such hits as "Finding Nemo" and "The Incredibles," while it has struggled to unsuccessfully to create its own animation magic.
Pixar and Disney have several times broken off talks that were aimed at extending a deal that allowed Disney to distribute Pixar-made movies.
"As I considered the possibility of returning Disney animation to greatness, it was clear to me that maintaining a relationship with Pixar was essential," Disney CEO Robert Iger said in a conference call.
Jobs agreed to the deal after extensive discussions about how Pixar's creative culture could be maintained within the larger Disney family. "After a lot of soul searching and thinking, we came to the conclusion this looked to be the most exciting path for Pixar's future," he said during the conference call.
The deal abruptly shifts the Hollywood animation landscape and is likely to spawn a number of additional changes as studios get a handle on how the digital-media revolution can best be turned to their advantage.
Another Job for Jobs
Terms of the agreement call for 2.3 shares of Pixar to be exchanged for a single share of Disney stock. With Jobs currently owning a 50.6 percent stake in Pixar, that converts to about a 6 percent stake in Disney after the deal closes, which could come by early summer. Based on Tuesday's closing prices, Jobs' Disney stake is worth around $3.6 billion.
The other shoe in the deal is the Apple connection, which was downplayed by the principals in the deal but is widely viewed as a significant element.
The executives acknowledged that new means of distributing content were a consideration in the merger discussions, but they did not reveal any firm plans.
Kids may watch a great animation film "dozens of times, if not hundreds of times," Jobs noted. "The opportunities for viewing these films on both television and other types of devices is huge. If we can make great animation films that affect the culture, there will be a strong demand for younger family members to watch them many, many times in many places — probably on many devices."
In addition to a studio that cranks out hit movies, Disney and Iger also bought an intangible in the form of Steve Jobs' ability to see the future, New Age Media Concepts analyst Louis Victor said.
"Steve Jobs is a visionary. His outlook for Apple Computer has been nothing less than amazing," he noted.
"So you may be looking at something a lot more than just a Pixar-Disney deal. With the technology at their fingertips, you can expect Jobs and Iger to implement a distribution blitz bringing Disney content to a new level," Victor added."I wouldn't rule out an Apple deal either."
(Song)Track Record
Disney and Apple are already linked in other ways, with Disney subsidiary ABC providing some of the first wave of video content for the iPod, including the series "Desperate Housewives," which was one of the first full-length video clips made available for the device.
Disney's other subsidiaries, notably ESPN, have also made aggressive pushes into new digital distribution channels, such as mobile video.
Hollywood now recognizes and is prepared to embrace what both movie and music studios fought bitterly for years, Inside Digital Media senior analyst Phil Leigh told the E-Commerce Times.
"The studios tried to keep it at bay, but now they recognize that the future of media distribution lies in digital form," he said.
In Jobs, who has reportedly turned down a chance to serve as chairman of Disney's board, Disney gains someone who can show them the best pathways to opening more distribution channels without giving away their intellectual property. Many studios initially feared iTunes would become a tool for piracy, Leigh noted, but it has become the largest single seller of digital music.
"There's a level of trust with Jobs that doesn't exist with others in the technology industry," he added.