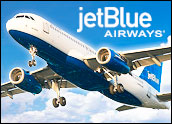 After years of relying mainly on its own Web site as an online sales vehicle for its airfares, discount carrier JetBlue changed course Monday, striking deals to allow third-party travel sites sell tickets for its flights.
JetBlue announced distribution deals with Travelocity, Orbitz, Expediaand Priceline, a move that will dramatically expand the number ofpeople who find its airfares online, especially in side-by-side price comparison settings.
Trips on JetBlue are now available as stand-alone flight bookings and will soon be able to be combined with hotel stays,car rentals and other packages, Travelocity said. Orbitz said it is already offering customized packages based around JetBlue fares.
'A Good Fit'
Priceline.com will immediately make all of JetBlue's published fares available to its customers, both for its traditionalpricing model and its reverse auction low-bid sales platform, the travel site said.
JetBlue did not disclose the financial terms of any of the agreements.
JetBlue's discount offering "resonates well with price-conscious travelers" making it a "good fit with Priceline.com's position in the marketplace," said Priceline Vice President Mark Koehler.
"Our customers will eagerly book this inventory," noted Sam Fulton, an Orbitz vice president.
Discounts and DirecTV
Launched just seven years ago, JetBlue has ridden a discounting philosophy along with small creature comforts such as in-flight DirecTV for each passenger to become the eighth-largest carrier in the United States.
The carrier originally eschewed third-party ticket sales, hoping it could use a direct sales approach to keep fares down by cutting out the marketing costs associated with third-party sales. Last year, it began to move away from that model, listing its tickets on the back-end global distribution systems used by travel agents to book trips.
The shift comes at a time when JetBlue and the rest of the airline industry are facing a squeeze: Consumers and business travelers are cutting back budgets in the face of a slowing economy and the housing crunch even as fuel costs are rising rapidly.
It also comes at JetBlue is trying to build on recent momentum, having posted its first third quarter profit in two years last month thanks to higher occupancy rates on its flights.
Sustaining that trend may be difficult because JetBlue is at a disadvantage to some of the larger carriers because it relies almost exclusively on domestic flights for its revenue, JPMorgan Chase & Co. analyst Jamie Baker told the E-Commerce Times.
While international carriers will benefit from European and other overseas travelers traveling to the U.S. to take advantage of the weak American dollar, JetBlue relies more on domestic leisure travel, which may not be as strong in the next few quarters for economic reasons, Baker added.
Helping Hands
JetBlue's move leaves only fellow discounter Southwest Airlines as theonly major airline that doesn't list its fares with third-party travel merchants, choosing to sell its tickets only through its own site.
While the airline will benefit at a key time, Forrester analyst Henry Harteveldt said the travel sites may also need the boost. A recent Forrester survey found the number of consumers who both researched and bought travel online fell 9 percent between 2005 and 2007.
The growth of the overall Internet population and e-commerce in general is masking the trend and more frequent online buying by heavy users is softening the drop, but online sites will need to improve to stay relevant long-term, Harteveldt told the E-Commerce Times.
"Shoppers are telling online travel sites they could do a better job with the products they offer and the way they offer them," he added.