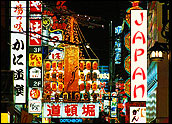 Joining forces in a bid to usher in a new era of ultra-convenient payment systems, Japanese credit cards companies have banded together with wireless phone companies to form a "mobile wallet" alliance.
JCB Co., the largest credit card underwriter in Japan, and others joined with mobile operators such as KDDI Corp. and Vodafone to build out infrastructure needed to support a system known as QUICPay, which uses a smart chip from Japan-based Sony to send and receive payment information.
Japan and other countries in the Pacific region are likely to be the first to see widespread use of mobile phones as portable wallets, storing credit card information and transmitting it to receivers to complete a range of small and large transactions. Some carriers in Japan have begun to launch tests of such payment systems, but the credit card companies believe that the infrastructure is in place.
The alliance hopes "wallet phones" will become storage devices for a range of information, from credit card numbers to airplane tickets and even forms of personal identification.
Analysts say the alliance isn't surprising. Credit card companies and mobile operators both hope that wallet phones will take off, increasing the amount of phone usage and increasing how much consumers rely on credit-card type payments, making micro-payments with them instead of using cash.
Ahead of the Curve
A Japanese mobile carrier, NTT DoCoMo, launched the first wallet phone service earlier this year. Others have services in the works, with most major carriers expected to have payment services on their menus before the end of this year.
DoCoMo is not among the 39 companies that have joined to form the alliance, whose members include Mastercard International Japan, and Toyota Motor Corp.
Several factors may keep wallet phones from spreading rapidly to the U.S., analysts say. For one thing, credit card usage is much higher than in Japan, where less than 10 percent of purchases are put on plastic, lessening the incentive among major banks and credit underwriters to push wallet phone usage.
The U.S. is also behind Japan and other countries in the Asia-Pacific region in terms of availability of high-speed wireless networks.
Finally, payment services are not yet on the wish list for U.S. mobile phone users. A recent survey by research firm In-Stat found a range of services, including downloadable music and video and gaming ranking above payment.
"Attitudes will change over time, but there isn't much enthusiasm for those types of services among users right now," said In-Stat analyst Neil Strother.
Strother said the burden will be on handset makers and mobile network operators to build secure systems that give consumers confidence and to convince customers that the services will be something they want or need.
Matter of Time
In the U.S., the phone-as-wallet may be a few steps away. Currently, credit card companies are pushing the contact-less credit and debit card as the next innovative step in payment. Such cards eliminate the need to swipe cards through readers.
Still, analysts say the trend is unmistakable, with consumers more comfortable all the time with their mobile phones as all-in-one devices.
"Mobile carriers will push this kind of service because it will be what keeps them profitable in the long run," telecom analyst Jeff Kagan told the E-Commerce Times "And if they build in the kind of security and privacy that people want, it will catch on eventually. People want convenience and this is just another type of convenience."