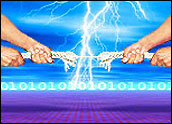 When VeriSign launched in 1995, it touted itself as being the "only company focused 100 percent on digital authentication products and services." But since 2000, the company has ventured into several new — and perhaps questionable — markets.
For example, VeriSign entered the domain name services market with a big splash when it acquired Network Solutions in 2000, but the company has recently stumbled amid lawsuits over its allegedly deceptive marketing practices.
And recent earnings reports seem to indicate that VeriSign could be spread too thin. The company reported a net loss of US$328 million in the first quarter, and executives said it would undergo a proactive restructuring — including laying off 10 percent of its workforce — to integrate and realign company resources.
But despite such gloomy announcements, Aberdeen Group analyst Jim Hurley told the E-Commerce Times that he believes VeriSign can manage all of its newfound business lines. "VeriSign is not delivering all of these new services," Hurley said. "Many are being delivered through business partners, which are critical to VeriSign's success."
Broadening the Brand
Indeed, although VeriSign has gobbled up 11 companies since the beginning of 2001, it has also formed strategic alliances to flesh out its core offerings.
For example, the company has begun providing online payment systems, wiretapping services for telecom providers, and managed security services aimed at helping businesses design, implement, monitor and manage secure e-business networks.
The Mountain View, California-based company describes itself today as a "digital trust services" provider with four core offerings: Web presence services, security services, payment services and telecommunications services.
Tom Galvin, VeriSign's vice president of corporate communications, told the E-Commerce Times, "VeriSign has a core mission to enable everyone, everywhere to engage in trusted commerce and communications — and all of our business activities are aligned to that."
Channel Challenges
Of all the new services VeriSign has brought under the umbrella of its security-driven brand, the company's foray into managed security services is the one that most concerns analysts.
The company entered this arena through acquisitions and partnerships and has little firsthand experience, according to experts. Depending on channel partners to deliver results could present challenges.
"VeriSign resells managed security services through channels in other parts of the world," Forrester analyst Laura Koetzle told the E-Commerce Times. "This says to me that they are going to have service delivery problems just because of the number of moving parts."
VeriSign's Galvin said he disagrees. "We offer managed security services in-house," he noted. "Like many tech companies, we have an ecosystem of partners to expand our reach. We've been in the managed security business for so long that I think we've got a handle on it."
Core Confidence
Indeed, Koetzle does not seem to doubt VeriSign's ability to manage seemingly disparate lines of business. While some new markets, such as domain name services, are a bit of a stretch for the company, security is an important factor in each segment.
"VeriSign has gone into a lot of businesses quickly," said Koetzle. "But they haven't, to date, strayed so far from their core competency that you want to question what they are as an organization."
VeriSign's biggest challenge could lie in consolidating its current businesses to leverage its brand. The company has an opportunity to win managed security services customers from competitors like Sprint and Cable & Wireless, according to analysts, but it must first deliver on promises it has already made.
"VeriSign has over 5 million mass-market customers, over 4,000 enterprise customers and roughly 1,000 telecommunications customers," said Galvin. "Our opportunity is to help all of these companies successfully manage the full life cycle of communications."
Acquisitions Ahead
Going forward, industry observers should expect to see more acquisitions of innovative upstarts in the managed security services segment, analysts said. In the current environment, merely providing such a service is a market differentiation; but as managed security services mature, that will not be enough to lead the industry.
All in all, analysts said they like VeriSign's chances of succeeding with its varied business lines, especially in the nascent managed security services market.
"Success is going to come down to cost, economies of scale and brand," Koetzle said. "VeriSign has staked out the trusted intermediary position for itself, and [has] been successful at [it] in a way that almost no other company has."
And according to VeriSign's Galvin, "VeriSign doesn't intend to expand from its core areas, but instead grow each of them to solidify its role."