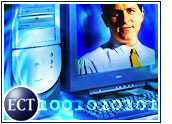 In a business traditionally built on partnerships and cooperation, Dell Computer (Nasdaq: DELL) seems bent on making more enemies than friends of late.
In July, Hewlett-Packard (NYSE: HPQ) terminated a four-year reseller agreement with Dell that reportedly brought HP as much as US$100 million per year in revenue. The companies, which have long been rivals in the personal computer market, parted ways after word leaked that Dell intended to make and sell its own line of printers and other peripheral devices.
Earlier this month, Dell lost another longtime partner when Cisco Systems (Nasdaq: CSCO) announced that effective in October, Dell no longer would be authorized to sell Cisco data switches. Like HP, Cisco acted after Dell announced plans to offer similar products under its own brand name.
Is Dell taking a page from the Microsoft (Nasdaq: MSFT) handbook — one that eventually will see it standing alone?
Move, Counter
What lies behind Dell's expansion is no secret. Because PC sales remain sluggish, the company needs to launch new product lines to keep revenue from falling off too steeply. Add to that a self-proclaimed goal of doubling revenue to $60 billion within five years, and you have a recipe for aggressive expansion.
But are Dell's latest moves part of a larger strategy that will see the company shunning partnerships in the long run? Dell spokesperson Mary Fad told the E-Commerce Times that the decisions to terminate the reseller agreements were made by HP and Cisco, respectively, not by Dell.
In Cisco's case, she said that even after Dell rolls out its own line of servers — which has not yet formally taken place — there will be little direct competition with the networking giant at first. "We've announced that we're about to launch some initiatives, and you're seeing the reactions," Fad said.
Aggressive Actions
If nothing else, analysts and observers noted, Dell's timing seems to indicate a desire for not just market share, but outright market dominance. The company appears to be using its relative strength to strike while other PC makers are struggling amid the long-term economic slowdown.
But Dell is also adapting to the realities of the marketplace, Aberdeen Group analyst George Peabody told the E-Commerce Times. Printers and peripherals are profitable business lines that Dell can use to gain market share and boost its bottom line.
"Given where Dell is situated, it makes sense for it to go after more business from those customers it is already selling to," Peabody said.
Consumer Wins?
Meanwhile, focusing more on in-house product lines, Dell can offer another feature that customers are definitely interested in given today's economic environment: lower prices.
IDC analyst Jason D. Smolek said that Dell's ability to bundle and lower prices will make it a formidable competitor going forward in both the enterprise and consumer markets, where it is hoping to gain from the misfortunes of competitors like Gateway.
However, Smolek said, "It will take time to see if a strategy is really being played out and even longer to see if it will work."