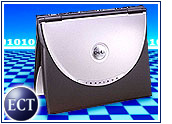 Dell has announced second-quarter results that fell slightly short of analysts' estimates, but the company said it expects third-quarter earnings and revenue to increase as it continues to steal market share from competitors.
On Thursday, Dell executives said the company reversed year-ago losses in the second quarter, with revenue up 11 percent to US$8.46 billion. However, analysts had predicted revenue of $8.56 billion.
Dell gained 18 percent in worldwide product shipments in the second quarter, even as industry volumes declined 4 percent. The company'sserver and workstation shipments were up 20 percent. Those products, along with storage systems, accounted for 20 percent of Dell's revenue.
Net income for the quarter ended August 2nd climbed to $501 million, compared with a loss of $101 million in the year-ago period.
Delivering Value
"While other companies have been losing [money] on their PC businesses, Dell has been showing that they consistently make money and gain market share," Aberdeen Group analyst Peter Kastner told the E-Commerce Times.
Dell first made a name for itself with its direct-distribution method, which enabled it to become the low-cost leader and win customers from other vendors. The company recently lost its number-one ranking after Hewlett-Packard merged with Compaq, but it is still a close second despite its formidable new competitor.
Key National Markets
Dell's second-quarter shipment growth of 23 percent in the United States contrasts with an 4 percent decline in the rest of the industry. Total company revenue rose 14 percent. Dell's strength in the U.S. market was led in part by a 21 percent increase in shipments to education and government customers. Purchases by U.S. consumers jumped 47 percent.
"Beginning with the consumer market in the U.S. and now spreading overseas, Dell has taken away retail market share from market leaders," Kastner said. "Overseas, where the Dell name is less well known, the company is presenting itself as a worldwide high-quality brand."
The company's 12 percent growth in Asia-Pacific and Japan contrasts with a 3 percent decline in the rest of the industry in those regions. Dell server shipments were up 12 percent, while server shipments by other companies fell an average of 8 percent.
Likewise, Dell product shipments in Europe, the Middle East and Africa were up 5 percent in comparison with a 3 percent overall industry decline. The company also outperformed industry averages in Germany and France.
Looking Ahead
According to Kevin B. Rollins, Dell's president and chief operating officer, the company's volumes could increase more than 5 percent sequentially from the second quarter to the third.
The company said it expects to book record-breaking revenue of $8.9 billion in the third quarter, up 19 percent from the year-ago period. Its goal is to improve operating margins and earnings per share by 25 to 30 percent.
"Dell's operating costs — general, sales and administrative — are under 10 percent now of sales," said Kastner. "So it's a lean and mean, low-overhead operation."
Dell is ahead of schedule in its effort to save more than $1 billion in total costs this year, including cost cuts in product design, manufacturing, logistics and warranties, according to Rollins.
HP executives could not immediately be reached for comment.