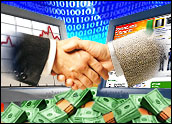 Intuit, which makes financial management software popular among small businesses and consumers, said Thursday it had agreed to buy Digital Insight, a provider of Web-based banking services, in a deal worth US$1.35 billion.
Intuit agreed to pay $39 per share in cash for the Calabasas, Calif.-based firm, which provides back-end support for banking services to some 38 million customers, mostly through partnerships with roughly 1,750 banks and other financial institutions.
Makes Sense
The deal gives Intuit a logical extension for its popular financial management software tools, which include TurboTax, QuickBooks, Quicken and others.
Together, the companies will serve some 5,000 financial institutions, 25 million consumers and nearly 7 million small businesses.
"The combination of two industry leaders will put Intuit in an excellent position to bring a new generation of online banking solutions to market in a way that will redefine the way small businesses and consumers manage their financial lives," said Intuit CEO Steve Bennett.
After the merger, current Digital Insights CEO Jeff Stiefler will oversee a banking services unit at Intuit. Together, the companies will be able to "combine work flows in its financial management tools with online banking capability … to create new, easier, and better-value offerings for consumers and small businesses," Bennett said.
The acquisition is the second major splash made recently by Intuit, which in September announced a partnership with Google to enable the search and advertising giant to sell its services to Intuit's huge base of small business users.
Room for Improvement
While online banking has seen explosive growth, with nearly every traditional bank and credit union now offering Web-based banking, "today's solutions don't meet the needs of most small businesses and many consumers," Stiefler said.
To fund the acquisition, Intuit said it would take on as much as $1 billion in debt financing.
Shares of Intuit were down slightly in afternoon trading Thursday, falling about three-quarters of a percent to $31.65. The stock has enjoyed a strong run since mid-summer, climbing from below $30 per share to more than $35 in the wake of the Google deal.
The timing of the deal may have been right for Intuit, which suffered a rash of analyst downgrades after its most recent quarterly earnings showed continued revenue growth but some slowing in profitability.
Bigger and Better?
Intuit's outlook for 2007 is for slower growth of 8 to 10 percent, compared to 15 percent sales growth this year, Standard & Poors analyst Jim Yin said.
Intuit could make gains by improving the interaction between its software products and Web banking sites. Though some such sites now offer ways to download bank data into such programs, the interfaces can be cumbersome and buggy.
Most consumers still don't bank purely on the Web, according to Forrester Research analyst Carrie Johnson. Instead, they prefer to deal with real-world branches when establishing new accounts, for instance. For now, the Web's main role is that of educator, she added.
"Consumers use the Web to check rates, locations, and general product information before applying," Johnson explained.
Whether or not Intuit can help change that behavior and expand the way consumers use online banking remains to be seen. However, the deal is expected to help Intuit diversify itself away from its more seasonal tax preparation and records management business, and possibly gain ground among larger businesses by offering services directly through a business' bank.