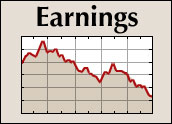 IAC/InterActiveCorp, the parent company of Expedia, the Home Shopping Network and Hotels.com, posted a quarterly loss today. IAC said operating income before amortization was strong at Home Shopping Network, but its travel business made only slight increases.
IAC recently announced plans to split in two by spinning off Expedia and related businesses in the second quarter. The company posted a fourth-quarter net loss of US$45.9 million, or 7 cents a share, compared with a net profit of $152.8 million, or 20 cents a share, a year earlier.
Diller Speaks
IAC Chairman and CEO Barry Diller said 2004 was a pivotal year for the company and called the 15 percent revenue growth "satisfactory." Diller remained optimistic about the initiatives and acquisitions that he expects to lead to growth for years to come.
Fourth-quarter revenue fell to $1.72 billion from $1.80 billion a year earlier. Operating income before amortization rose to $323.9 million from $291.5 million a year earlier.
"There were worthy accomplishments in the businesses: IAC Travel grew U.S. revenue by 20 percent amid a hotly competitive environment and by 66 percent internationally, and HSN delivered on its potential, with domestic revenue growing by 8 percent and operating profits expanding by 16 percent," Diller said.
"More than anything, we made the structural decision to simplify our company and create a new publicly traded entity called Expedia, making both 'new' IAC and our travel services far clearer in both their individual focus and in their understanding by all constituencies — pivotal for the future of both.
Analysts Talk Back
Heather Dougherty, senior retail analyst for Nielsen//NetRatings, told the E-Commerce Times that the travel segment is still doing well online, despite IAC/Interactive's losses. The audience might be shifting, however, as consumers get more comfortable booking travel online.
"Close to half of online users engage in some kind of travel research in a given month," she said. "But one thing that we continue to see a lot of is the suppliers themselves trying to attract users directly to their sitesrather than solely through agencies like Expedia. Suppliers are enticingpeople with extra miles for booking directly through their site."
Dougherty said online hotels booking is also becoming far more common. That bodes well for Hotels.com, but she said like the airlines, hotel operators are vying for direct bookings. She said customers looking to maximize travel loyalty programs or Web-only exclusive specials are becoming more likely to visit the hotel brand's site directly.
"[The] travel sector was weaker than we anticipated, offset by a somewhat stronger-than-expected [Home Shopping Network], especially in Europe," Safa Rashtchy, a Piper Jaffray analyst, wrote in a research note. "We are likely to lower our estimates to adjust for even lower travel growth."