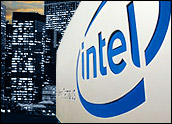 Chipmaker Intel has acquired a minor ownership stake in EMC's VMware software unit, a move that comes as the storage company readies its fast-growing server virtualization subsidiary for an initial public offering (IPO).
Intel Capital, the company's venture investment arm, backed VMware with US$218.5 million, the companies said late Monday. Intel will yield a nearly 13 percent ownership of the common stock of the company, giving it an approximately 2.5 percent ownership of the public company. EMC will retain nearly 90 percent ownership of VMware after the IPO.
While there may be an immediate payoff if the IPO is a success, the investment is also a long-range and strategic one for Intel. VMware's virtualization platform runs on Intel architecture and most deployments of the tools are on systems using Intel chips.
An Intel executive will also join the board of VMware post-IPO. The investment is aimed at "reinforcing the value of virtualization technology for customers," Intel said.
The two firms have also entered into what they call a "routine and customary collaboration partnering agreement" that will focus on joint product development, marketing and other initiatives.
A Hot IPO
VMware declared its intentions to go public in a filing with the Securities and Exchange Commission (SEC) in February. The company plans to sell about 10 percent of its common stock when it debuts, which could happen in a matter of days. The stock is expected to price at $23 to $25 per share, giving the IPO a value of nearly $950 million.
Hopkinton, Mass.-based EMC bought VMware in 2004, paying $625 million for the firm as part of a software buying spree that helped the storage giant become more of one-stop shop for data storage, disaster recovery and data manipulation.
Investor interest in the IPO is seen running high and timing of the offering may be key, as VMware currently dominates the market for helping companies get more out of their server power through the use of virtualization.
Many enterprises will embrace virtualization even more fervently in coming years, moving from specific, focused projects to broader strategies that take the entire enterprise network infrastructure into account, Forrester Research analyst Galen Schreck told the E-Commerce Times.
VMware remains the undisputed leader in the market, he said, but the growth of interest will aid other vendors as well, including XenSource and Microsoft, which is rolling out its Viridian solution for virtualization.
"The arrival of alternatives and competitors will help commoditize virtualization technology," Schreck added. That in turn will increase the importance of related tools and technology aimed at helping companies make the most of their virtualized servers.
Capital Idea
The market for virtualization software alone will be worth more than $1 billion this year and as few as 5 percent of the servers that could utilize the technology are currently being maximized through virtualization, according to estimates from research firm IDC.
VMware revenue from both software and services could reach as high as $1.2 billion this year after rising 82 percent in 2006, Sanford Bernstein & Co. analyst Toni Sacconaghi said in a recent research note.
In fact, EMC's purchase of VMware may go down as one of the best strategic moves in recent years in the tech sector, Pund-IT Principal Analyst Charles King told the E-Commerce Times.
"They were ahead of the curve with the purchase and the market has beaten a path to EMC's door," he said. As with any such success, competitors are hastily putting together alternatives and trying to build next-generation virtualization offerings. VMware is unlikely to be able to sustain recent growth rates, making now a logical time to unlock value in the company through an offering, King added.
Though it operates in the shadow of its parent company, Intel Capital has amassed a significant track record as a venture investor, with several high-profile success stories.
Past Intel Capital investments have included blogging and social networking firm Six Apart and WiMax services provider Clearwire, which went public in April. It also backed Linux software firm JBoss, which was bought by Red Hat — which Intel Capital had previously bankrolled — in 2005, and Groove Networks, the peer-to-peer firm acquired by Microsoft.