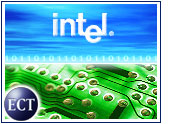 Hoping to entice enterprises to plunge back into the information technology spending pool, Intel has unveiled a series of initiatives that it claims will make corporate computing inherently more secure and flexible.
The company, using the spotlight at the Intel Developers Forum to detail its vision of the future of enterprise computing, said several new technology advances, including Hyper-Threading, no-executive (NX) memory protection and its LaGrande project, will merge to improve network computing.
Taken together, the technologies make up Intel's "digital office," according to Intel executive Bill Siu.
Securing the Future
Within the "digital office" push, Intel's secure-chip initiative may resonate most strongly with enterprises, which have been bombarded by a new wave of e-mail-borne malware even as they attempt to recover from the fallout of the MyDoom and Doomjuice worms.
Indeed, Intel said its NX memory protection format, already available on its Itanium 2 server processors, will be most powerful as part of secure platforms, such as those it is developing through a joint initiative with Dell and NEC.
Those three companies have said they will create an Intelligent Management Interface specification, which will allow them to build more secure and easily managed ways for servers to interact.
One of Many
However, the products and solutions aimed at enterprises make up just one corner of the total picture Intel is presenting at the developers forum. The company also is focusing on home entertainment uses for its processors and has promised a steady stream of next-generation technology to build on the success of its Centrino chip for notebooks. All of these moves are aimed at making mobile computing more secure and a more reliable part of both enterprise and home networks.
IDC analyst Shane Rau told the E-Commerce Times that Intel appears to be using its position as a market leader amid a semiconductor upturn to solidify its prospects for several years to come. The company has racked up a string of strong earnings performances and has indicated it sees signs of steady business into the near future.
"Intel is talking to developers about what they're going to be using to build the next technology that enterprises want," Rau said. "A lot of this stuff is still way up the pipeline, but they can show it off and get developers excited about it."
Positioned for Growth
Prudential Financial analyst Mark Lipacis added that Intel already has a strong growth engine in its home-entertainment offerings and could extend its lead over rivals such as AMD and grab market share with its new enterprise and mobile offerings.
While the growth will be steady, rather than rapid, Lipacis told the E-Commerce Times that Intel's steady stream of products lined up for release over the next year or so puts it in a strong position. "They've set themselves up for a long period of sustained growth and profits," he added.
Little Help
Intel got a further boost from Dell on Wednesday when the computer maker revealed it has no immediate plans to begin offering enterprise versions of its machines loaded with AMD chips. Dell did say it is impressed by the performance and price of AMD processors, however, which analysts saw as a sign it could adopt the chips in the future.
Separately, Lindows.com announced plans to launch the first version of its Linux-based operating system to work with Intel's Centrino technology. Lindows said Centrino-based machines preloaded with the Lindows OS will become available commercially in about a month.