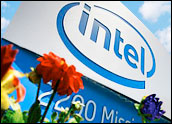 In what could be a hopeful sign for the technology sector amid mounting economic uncertainty and a sign it continues to win back market share from its main rival, Intel said Monday its revenue for the third quarter would be higher than previously forecast.
Intel now expects revenue of US$9.4 billion to $9.8 billion for the current quarter, it said, compared with a previous range of $9 billion to $9.6 billion.
The world's largest chipmaker cited "stronger than expected worldwide demand for its computing products" for the increased outlook.
A Key Bellwether
Intel also said gross margin would come in at the high of its earlier target, with profit margins expected to be around 52 percent. Intel left other expectations, including per-share profit targets, unchanged.
Intel, which formally reports earnings on Oct. 16, has long been viewed as a key bellwether of economic conditions and a strong barometer of the health of the tech sector in particular.
Because its chipsets and related products are the building blocks of personal computers, servers and consumer devices, strong demand for those components indicates that PC makers and other manufacturers are bullish about their prospects as well.
Overall Strength?
Intel shares were up just under 1 percent to $25.70 in morning trading Monday. The stock has had a good year amid enthusiasm about tech spending, rising from below $20 to a recent high of $26.50.
While a hearty performance from Intel may indicate continued strong tech spending, it may also be a sign that the company continues to win back market share that rival Advanced Micro Devices (AMD) had managed to wrest away during 2006.
Since then, Intel CEO Paul Otellini has put in place an aggressive plan of cost reductions, targeted price cuts, research investments and new product rollouts that has helped Intel put up strong numbers. In June, Intel posted a 44 percent increase in profit for its second quarter, typically not a strong one seasonally for the chipmaker.
At the time, Intel was forced to defend its rather paltry profit margin of 47 percent, a number that it appears poised to glide past in the third quarter.
Exposure to Global Markets
"The PC market remains strong, and Intel is again benefiting from that as much as any other technology vendor," Gartner analyst Martin Reynolds told the E-Commerce Times.
AMD's surge showed Intel where it needed to devote resources in order to match or exceed AMD's product lineup and underscored that it needed to tighten its own operations to boost profitability. Intel attacked those areas, cut prices where it needed to and is now benefiting from a strong PC market, with shipments up 12 percent worldwide in the second quarter, according to Gartner data, and up as much as 38 percent in Latin America.
"Intel has always had exposure to all global markets, so it benefits even when the growth is limited to one or two regions," Reynolds added.
Intel's higher forecast comes after other tech executives have made bullish comments in recent weeks, including Cisco CEO John Chambers, who said despite an apparent slowing of growth in the U.S., the current global economy remains one of the strongest in history.
The Competition
Meanwhile, in the chip space, the data may suggest AMD has its work cut out for it if it doesn't want to lose more of the market share gains it won when the Opteron server chip first hit the market four years ago.
AMD's server market share rose as high as 25 percent at one point, but earlier this had fallen to 13 percent, according to Mercury Research. That trend could be reversed by AMD's quad-core chip, which made its debut Monday under the Barcelona name — or could be accelerated by Intel's move to the smaller and more efficient 45-nanometer fabrication standard, said Mercury President Dean McCarron.
"This is an important launch for AMD if it hopes to win back that market share," McCarron told the E-Commerce Times. "Intel is executing well and this is the first product in a new architecture for AMD."
AMD has staked a significant part of its future on the quad-core architecture, promising to roll out desktop and laptop chips using the configuration in the future, as well as chips to run mobile gadgets and consumer electronics.
"Intel recovered and used its size and resources to take back some of what it lost," McCarron added. "Now the focus turns to whether AMD can get some of it back."