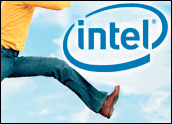 Hoping to build on more than 30 years of chip-making history while embracing the changes buffering the semiconductor industry, Intel has unveiled a new branding strategy, shelving a familiar catchphrase and a 37-year-old logo in the process.
The Santa Clara, Calif. chip-making giant said it would augment its "Intel Inside" tagline, which was used to associate Intel's chips with person computing performance in scores of ads in recent years, with "Leap Ahead."
Using the Consumer Electronics Show in Las Vegas as a springboard, the company also unveiled a new logo, replacing one that extends back to the company's earliest days in the late 1960s.
Intel CEO Paul Otellini is expected to detail the shift and the reasons behind it when he gives a keynote address at CES later this week.
But analysts say the changes represent the underlying shift in the chip-making industry, with leading companies eager to embrace the emergence of a vast range of home and portable consumer electronics that can perform many of the same functions once found only in high-end computers.
Viiv Ahead
The Intel brand changes are seen paving the way for its next major platform unveiling, which will be previewed at the electronics show as well. Known as Viiv, the family of chips is meant to become a central tool for managing home entertainment setups networked through a PC.
Though downplaying the tagline, Intel is not entirely abandoning the Intel Inside approach, which has seen it offer PC makers discounts and direct payments for displaying the tagline on their machines. That tagline has become especially synonymous with wireless capabilities, as the Intel Centrino chips quickly became the market leader in notebook computers.
The move also comes as Intel is ramping up to provide chips to Apple computer for the first time. Analysts say that partnership could provide Intel with significant credibility in the entertainment device arena, since Apple's success in design and functionality of the iPod is widely seen as a standard against which others are measured.
Intel is one of a plethora of companies that has made it clear it intends to be a key part of the shift to the networked home, where set-top boxes, PCs and other devices share everything from digital music and photographs to video downloaded from the Internet.
For Intel, that means emphasizing its ability to create a platform for device makers and others who are now in competition with PC makers to provide the digital home experience, Endpoint Technologies Associates Principal Analyst Roger Kay noted.
Wisdom Questioned
The timing may be key as well, with analyst firms now starting to roll out predictions of slower personal computer sales growth in 2006 before the next surge in buying occurs, creating a need for major chipmakers to create additional demand.
Steve Hall, publisher of the Adrants marketing blog, said Intel is taking a risk in moving away from what has by most accounts been a largely successful campaign behind Intel Inside. He compared the shift to the decision by General Electric to ditch its "We Bring Good Things to Life" tagline, one many consumers had committed to memory, in favor of the more ethereal "Imagination at Work."
"In marketing, we tend to forget it takes years for most people to fully identify with a brand's message," Hall said. "It takes just as long if not longer for people to accept and understand a new brand message. So it goes without saying a marketer better be damn sure their new brand blather clearly conveys the right message before embarking upon a change."
Intel Inside, Hall added, was a clear message that actually said something about the company's products, while the new tagline is more of a message meant to evoke meaning and get consumers excited about the chips .
"We think Intel is making a big mistake changing from an easily understood and descriptive tagline to one that conveys nothing more than boneheaded boardroom brand blather," Hall wrote. "Of course, with billions to spend on marketing, none of this matters. Intel could change their tagline to 'Duh' and the whole world would recite it in unison."