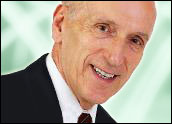 Do you wonder if technology has given us more information than needed? Perhaps, but sometimes it is very helpful, if not invaluable. There is so much good, solid data on the Internet that researchers can use it with great comfort and assurance. Almost gone are the days when academics were stuck in libraries searching old books for scraps of data to use in scholarly articles.
All of the available information is also helping the general public. What's happening? Obviously, searches have become infinitely easier and quicker. Also, something else is happening: information asymmetry is falling by the wayside.
What Is Information Asymmetry
Many of you may not have heard of this somewhat novel phrase. Economists have known about it for a long time. Here's a definition from Wikipedia: "Information asymmetry occurs when one party to a transaction has more or better information than the other party."
---

Listen to Ted di Stefano (7:26 minutes)
---
Even if you think that you're unfamiliar with this phenomenon you have, no doubt, had experiences in your life when you were the victim of information asymmetry.
For instance, when you've purchased a new car, did you feel comfortable and empowered when you started to negotiate and haggle over price? Or, did you feel sort of out of control, not knowing exactly how much you should be paying for a car?
Here's another example: You're in your doctor's office waiting to be called. You've got a list of concerns about which you know next to nothing. You're actually a victim of information asymmetry.
How about this: You're trying to find information on a stock or a particular industry. You go to your broker who, for some reason, tries to change your focus to another stock or industry. You aren't sure what to do because you're suffering from information asymmetry.
One more example: You are looking either to get a mortgage or to refinance your present mortgage. You go to your bank or mortgage broker, who tells you the proposed loan is "the best you can possibly get, given your circumstances." You have no idea whether the proposal is competitive or whether it can actually hurt you.
Technology to the Rescue
I'm sure that you know where I am going with this. To a very decent extent, information asymmetry has been shattered by technology. Why is that? The Internet can give you reams of information on an almost infinite variety of subjects and topics.
The only prerequisite, and it's an important one, is that you have to have both some basic searching skills as well as discretion and common sense about the source of the articles, studies, information, etc., that you find on the Internet.
Given that you have a basic grasp of how to effectively search for a topic, and you have the wisdom and discretion to sense what's real and factual so that you can sort out the amateur sites from the professional ones, you're there!
Asymmetrical Situations That Can Be Avoided
Let's look at the examples that I gave above and go through each of them. They should not be a major problem for you — you can be empowered and take advantage of these situations.
Buying a car. You should not feel powerless when you walk into an auto dealership to purchase a new car. There is so much information on cars — their quality, prices, and performance — that you should walk into the dealership fully armed with the necessary data and make a very wise purchase. There is simply no reason why you should be at a disadvantage in such a situation.
A visit to the doctor's office. This one's a little tricky. Certainly the Internet won't qualify you to become a physician. There's no doubt about that. However, there is a tremendous amount of good, sound data available to make you a very informed patient who can work with your doctor to find a rational and safe solution to your health problems.
During an annual visit with my doctor, I showed him the results of a European study on a common condition that affects many of us. Actually, the doctor told me that he had read the study, but he then told me that one of his patients found it on the Internet, printed it out, and gave it to him! A great case of asymmetry shattered.
Purchasing a stock. Some people blithely take the advice of brokers without doing independent research when purchasing a stock. I've done that, and I've gotten hurt by my laziness. There's just too much financial information on companies and industries for you to go to your broker uninformed.
Getting a mortgage. So many of us have approached our banks as victims — victims either of misinformation or no information. With so much information on mortgages, that no longer has to be the case. In fact, one of the companies taking advantage of information asymmetry is a company called LendingTree.com.
LendingTree presumably works with certain banks that provide competing offers to the prospective borrower. Even in this case, there is plenty of information available for you to check out whether or not you're getting the best deal available.
Markets Are More Efficient Today
Many economists have written about the fact that the more we know about a sector, for example the stock market, the more efficient it is, meaning that it is working in a well-oiled manner to the benefit of both sides to a transaction.
So, whether you are buying a car, visiting the doctor's office, buying a stock, or getting a mortgage, you can deal in a much more efficient and fair environment than you were able to several years ago, before the widespread use of the Internet.
This makes the vendors of goods and services more likely to be honest — they're forced to be by the mere mass of good information out there. As a result, the purchasers are better served by getting better prices.
All in all, quite a good situation.
Good Luck!
---
Theodore F. di Stefano
is a founder and managing partner at
Capital Source Partners
, which provides a wide range of investment banking services to the small and medium-sized business. He is also a frequent speaker to business groups on financial and corporate governance matters. He can be contacted at
[email protected]
.
---