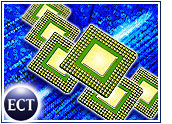 Chipmaker Infineon Technologies said it would invest US$1 billion to build a new fabrication plant in Malaysia that will make products aimed at the automotive and industrial industries.
The German-based company said it would break ground early next year on the facility in Kulim High Tech Park and begin production sometime in 2006. The plant will employ around 1,700 people when fully operational.
The plant is aimed at giving Infineon more of a presence in Asia as well as positioning it to capitalize on what it believes is a fast-growing market for electronics chips in vehicles, with functions formerly handled with mechanical components now increasingly governed by electronics chips
"This new fab [fabrication plant] is an important step in continuing our successful business with chips for automotive and industrial power applications," Infineon President and CEO Wolfgang Ziebart said. "With this move, we are systematically expanding our presence in the future market of Asia.
Ziebart said having a presence in Asia will help the company compete on cost more effectively as well as making it less susceptible to fluctuations in the recently volatile currency market. "Our continuous investment in Asia reduces our market risk concerning fluctuations of the U.S. dollar-to-euro exchange rate," he said.
Making a Move
Infineon ranks second worldwide in automotive chip sales and is the leading maker of such products in Europe, where it had a 15 percent market share. Its worldwide market share grew more than 20 percent last year, the company said in a release. Freescale Semiconductor, a spinoff of Motorola is the world market leader for car-related chips.
Infineon cited market research from Strategy Analytics that shows the automotive semiconductor market grew 14 percent last year to $13.3 billion worldwide.
Strategy Analytics analyst Ian Riches said auto makers will have to adopt even more electronics and computers in vehicles in order to meet stricter emissions guidelines in the future.
Broader use of such chips and associated software "remains the key technology to meet future legislation on engine emissions and safety, as well as in providing innovative features to attract consumers," Riches said.
Smart Cars
Infineon, whose CEO is a former auto company executive, is banking on the automotive market to provide it growth.
The market for chips in cars has had its false starts, Riches said, but appears poised to grow steadily as more well-known chipmakers enter the market and external forces drive adoption.
Gartner analyst Jim Tully said the chip industry is set for consolidation over the next five to 10 years in part because of rising costs that will drive some vendors out of business.
Having a presence in a low-cost center such as Malaysia is a good way to prepare for the future, he said. Not only does it offer opportunities for making chips at lower cost, but it also puts Infineon closer to key end customers in the Asian market. China is expected to gain in importance as an automobile manufacturing center in coming years, for instance.
Infineon also makes chips for personal computers and mobile devices and is a leading maker of dynamic random access memory (DRAM) chips. Earlier this year, Infineon reached a settlement to put to rest charges that it had conspired with other DRAM makers to illegally fix prices of the chips.