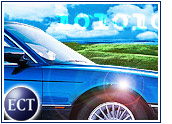 Online used car retailer iMotors.com hit a dead end Wednesday, announcing that it has shuttered its operations "due to a lack of sufficient capital to continue to grow the business."
According to a note posted on its Web site, the San Francisco,California-based company said that it will issue "prompt" refunds to customers who had placed deposits. iMotors also said it would honor warranties on vehicles already sold for the duration of the policies.
The shutdown comes less than one month after the company, a direct seller of certified used vehicles, slashed 30 percent of its workforce, or roughly 200 employees, in a bid to reach profitability.
Along with the layoffs, the company closed 15 to 20 "underperforming" delivery locations across the country in late March, in an effort to focus only on the most promising markets.
Stuck in Neutral
iMotors' business model allowed a customer to select the 1- to 5-year-old vehicle that he or she wanted to purchase either online or via toll-free number. The company then located, bought and shipped the car to one of its three factories, where the vehicle was prepared for delivery to the customer.
Although iMotors did not say specifically why it decided to close shop at this time, a published report said that the company had no other choice because key investors backed out.
Trying for Traction
The company's demise seems sudden because iMotors' future looked promising as recently as last fall. In September, the company closed on its latest round of financing, raising more than US$62.5 million.
At the time, the company said that it planned to use those funds to fuel an expansion as well as investment in technology infrastructure. iMotors raised more than $139 million in equity financing since its inception.
Among the privately held company's investors were Paul G. Allen's Vulcan Ventures, Global Retail Partners, Trinity Ventures and Rosewood Capital.
Unhappy New Year
In January, iMotors announced that Lloyd Ward, the former head of Maytag, had joined the firm as chairman and chief executive officer. iMotors also said that it was gearing up for "considerable growth" in 2001.
One month later, however, the company was reportedly slapped with a lawsuit for several alleged violations of California's Vehicle Code and Business and Professions Code, including misleading advertising and unfair competition.
The lawsuit reportedly is still pending in a Sacramento, California Superior Court.
Internet Stall
The online auto industry has been hit by a wave of consolidation in recent months, as companies try to figure out an effective method for driving sales over the Internet. A study published last year by the Gartner Group found that while 45 percent of U.S. households used the Web in the car-buying process, only 3 percent actually bought cars online.
In January, Amazon.com-backed Greenlight.com sold its assets to CarsDirect.com and laid off most of its staff. One month later, Trilogy Software shuttered its CarOrder.com e-tail site.