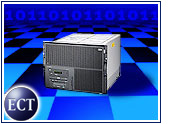 IBM has unveiled the first in a line of servers powered by its own Power5 microprocessor. The new product family is designed to add customized hardware to the company's server virtualization arsenal.
Big Blue said its eServer i5 is aimed at small and mid-size businesses that need their servers to run multiple software applications, even on different platforms, with its own tests showing up to 40 percent improvement in performance over earlier iSeries servers.
The company said IT departments also stand to gain from having Windows and Linux running on the same sets of servers, enabling simplified storage, security and backup setups.
Flexible Flyers
In addition to using Power5 processors — billed by IBM as the most powerful 64-bit chips available — the servers will be loaded with IBM's i5/OS, which includes the company's WebSphere middleware. Also, they will be able to run Linux, Windows and IBM's own platforms at the same time.
With the virtualization component, the new line becomes an integral part of IBM's on-demand computing strategy, according to Al Zollar, general manager of the iSeries server line.
The i5 520 Express Edition will sell for about US$11,500. Other servers in the family will be rolled out during the year.
Price Points
Yankee Group analyst Andy Efstathiou told the E-Commerce Times that IBM has shown greater willingness to use its market power and its increasingly strong financial position to affect the market for servers and other hardware, which in turn could mean a further boost for its software business.
"If they can start to put price pressure on the high-end server market, that's going to have an impact," he said. "They're in a position now where they can go that route. Their enterprise customers are definitely going to pay attention when they hear about new features and prices that are competitive."
Efstathiou said the server line announcement provides a contrast to the massive on-demand computing deal IBM signed with Wall Street giant Morgan Stanley just last week. While that deal highlighted how on-demand computing can help the largest enterprises, the server launch emphasizes that this computing model — which is aimed at helping companies squeeze every ounce of power out of machines they already have and access additional power only when needed — can work for nearly any company.
Second Front
Also on Monday, IBM announced the availability of its Stinger database software in open beta form. Stinger, Big Blue's code name for the next generation of its DB2 Universal Database, is seen as a competitive threat to both Microsoft and Oracle.
Due for market release by year's end, the Stinger upgrade includes some 200 product enhancements, according to IBM, including autonomic capabilities that enable the software to perform resource deployment and maintenance without manual intervention.
Lower price points for the software may enable it so compete with Microsoft's SQL Server line, and its Linux clustering capabilities may help it wrest market share from longtime database king Oracle.