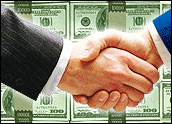 IBM has agreed to pay US$182 million in cash to acquire hosted applications firm Corio in a move aimed at strengthening Big Blue's line of application services.
The deal gives IBM control of Corio's Applications on Demand platform, which targets midsized businesses that need applications quickly but do not want to run them on their own networks.
In the application services model, customers pay for applications as they need and use them. Corio was an early entrant into the field, which became crowded during the height of the dot-com boom and offers hosted versions of a number of popular business platforms, including those from Ariba, Concur, Epiphany, Oracle, SAP and Siebel Systems.
Potential Bargain
Many of Corio's ASP competitors long ago failed, but the San Carlos, California-based company, which was founded in 1998 and went public in July of 2000, managed to hang on.
Lately, however, it has struggled to remain profitable and its shares have sagged as a result, making the buy a potential bargain for IBM. Analysts say Big Blue can leverage the firm's technology by making it part of a larger offering that includes a range of hosted and on-site application services.
"This acquisition is good for clients because it helps give them faster implementation, increased ease of use and variable-cost hosting solutions," Jim Corgel, general manager of small and midsize business for IBM Global Services, said.
IBM said it would retain current employees of Corio, including CEO George Kadifa, who will manage the application services unit.
Piece in the Puzzle
IBM CEO Sam Palmisano has made it clear that he sees potential in the hosted applications area, which seems to fit nicely into the larger vision of the tech giant of on-demand computing services. By subscribing to applications accessed over the Internet, businesses save up-front expenses of buying new hardware and integration costs.
"Applications are a place where people are already starting to be comfortable with the on-demand, pay-as-you-go model," Gartner analyst Martin Reynolds said. "They may be able to build from there."
Hosted software, in general, has been a hot topic, with CRM firm Salesforce.com at the forefront. While some enterprise technology buyers remain skeptical about the approach, preferring the traditional licensed software route, most analysts expect it to grow further.
"Anything that can increase strategic computing without increasing the overall IT budget a tremendous amount is going to find traction," Reynolds added.
Two Deals, No Waiting
In addition to the hosting services themselves, IBM might be able to turn the technology that Corio uses to manage those operations into an enterprise tool for deploying and managing applications in enterprise environments and also to help automate application management tasks now done manually.
The deal, which is expected to close within 60 days, sent Corio shares soaring higher by more than 35 percent in early trading today. IBM shares were also higher, moving up 0.60 percent to $92.34.
Though considered a market leader, Corio has struggled to stem losses of late. In October, it reported a quarterly loss of $4.3 million, up from $2.3 million the year before, even though revenue had risen to $17.8 million from $15.5 million in the previous year.
Meanwhile, IBM finds itself dealing with the possibility that another major deal might face new and unusual hurdles.
IBM plans to sell off its personal computer business to Lenovo Group in China for $1.75 billion. However, regulators might at least hold up the deal, saying they worry about risks to national security if it goes through.
Of particular concern is IBM facilities in North Carolina that Lenovo would acquire in the deal. Lenovo has pledged to cooperate with the review in order to assuage regulators' concerns.