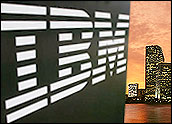 In commercial IT, "enterprise systems" have long been defined as the technologies that provide large organizations the highest levels of compute performance and critical attributes such as reliability, availability and scalability. But enterprise IT infrastructures have never been about technology alone; they also encompass the common boundaries and linkages between systems and large scale business processes, applications and workloads.
It's no surprise that as innovative new technologies become commercially viable, enterprises are often among their first adopters. Then, as those solutions become commonplace, they reset expectations for what businesses can and should achieve. These points are worth considering because vendors and the clients they serve stand at an inflection point as IT finds a home in a widening variety of unfamiliar locales and use cases, from collecting and analyzing data from hundreds of thousands of "intelligent" utility meters, to tracking and accounting for the movement of millions of packages and shipments in global supply chains.
Latching Onto 3 Critical Trends
These issues spotlight fundamental changes in what companies will require and demand from vendors and technology products. They also underscore what IBM calls the "Internet of Things," which drives the company's Smarter Planet initiatives and Smarter Computing solutions. Those points are apparent in IBM's new POWER7+ 770, 780 and 795 Power Systems, System Storage DS8870 arrays and other related solutions.
What's going on here, and why is it important? In a very real sense, IBM is aiming to help enterprise customers successfully contend with and take full advantage of three critical IT trends:
Cloud Computing — In essence, cloud is simply a broad, cross-data center implementation of the IT asset pooling, distribution and management functions that have been common in enterprise systems for decades. CIOs certainly recognize how cloud can help improve fundamental IT efficiency and agility, but they also believe cloud can drive innovative new forms of collaboration and customer engagements.
Analytics — Analytics and business intelligence are crucial to business success, but the growing volume and complexity of data means that companies need new ways to access, manage and use that information. Bottom line: Poorly or not fully leveraged data results in lost revenues and opportunities, so many consider analytics essential to improving and increasing the value of information.
Security — Business information is of critical value to virtually every enterprise, so it is a prime target for numerous interested and unfriendly parties, including common hackers, industrial brigands, organized criminals and institutional thieves. Organizations must protect information because of its monetary value, but lost or compromised data can also grievously harm a company's reputation and business relationships.
A Bevy of Solutions
How are these trends reflected in IBM's new solutions? In multiple ways. First, the marked improvements in system performance (up to 40 percent more) without any increase in energy usage means the three new POWER7+ systems should deliver a literally bigger bang for little if any increase in long term TCO bucks. That enhanced performance — along with their substantially expanded memory and new/enhanced Elastic Capacity on Demand for Power Systems Pools, as well as enhancements to IBM PowerVM virtualization and PowerSC security software — means IBM's new systems can and should be put to good use across numerous cloud, analytics and security-sensitive workloads.
The same can be said for IBM's new System Storage DS8870 and the updated Virtualization EngineTS7700 Release 3 solution. The DS8870's enhanced performance, 1 TB of system cache and self-optimization should allow organizations to use it to support a wider range of enterprise-scale cloud infrastructures and business analytics processes.
Expanding the benefits of storage virtualization to tape-based solutions (via IBM's Virtualization Engine TS7700 Release 3) underscores the value that tape continues to provide to enterprise customers. Furthermore, IBM's new encryption capabilities, including self-encrypting drives, are designed to meet the demands associated with keeping global enterprise data safe and secure. All told, the enhancements to the TS7700 Virtualization Engine should make it the storage solution of choice for IBM's mainframe customers.
Last but not least, IBM's new solution for Technical Computing for Big Data shows how an innovative vendor can use a well-established technology to deliver new, incremental, synergistic value. IBM's GPFS is an advanced file management platform that has long been valued in HPC for specialized processes, including weather modeling, oil exploration and digital media production. By integrating GPFS with IBM Platform Symphony's low-latency grid management software and IBM Intelligent Clusters, the company has effectively expanded, simplified and accelerated the capabilities and commercial use cases for analytics.
Overall, IBM's latest POWER7+ systems, DS8870 storage and other related solutions are valuable additions to the company's already remarkably deep enterprise systems solution portfolio. At the same time, these new offerings clearly reflect IBM's Smarter Computing initiative and underscore the company's belief in the critical importance of its investments in cloud computing, analytics and security.