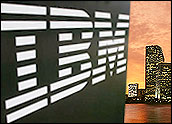 IBM's relatively robust outlook and the details of its fourth quarter performance have helped restore some investor optimism toward the tech sector after a wild week that saw recession fears rise on weak results from the likes of Intel.
IBM, which earlier in the week preannounced its earnings, said Thursday that many of its key business lines turned in solid fourth-quarter performances, with software sales up 12 percent, business services rising 17 percent and technology services up 16 percent.
The result was total revenues of US$28.9 billion, a 10 percent year-over-year increase, and profit of $2.80 per share, a 24 percent increase when compared with the fourth quarter of 2006.
'A Great Quarter'
IBM's overseas sales were particularly strong, with 65 percent of its revenue coming from outside the United States.
The results "reflect the strength of our of global business model," said Chief Financial Officer Mark Loughridge said.
"This turned out to be a great quarter" with the strongest revenue and profit performance in almost a decade, he added. "A great close to 2007 but an even better start to 2008."
IBM preannounced its top and bottom lines on Monday, a release that helped fuel optimism about tech stocks and in turn rallied Wall Street after a dismal performance a week ago. The upbeat mood quickly soured when Intel posted a weaker-than-expected fourth quarter and a downbeat outlook.
The look under IBM's hood helped reassure some investors Friday, as did a strong report from No. 2 chipmaker AMD. IBM shares were up more than 2 percent in late trading Friday to $103.21 after being up nearly 5 percent earlier in the session. Though the results helped push the Nasdaq and Dow Jones Industrials higher early in the day, the overall stock market sank back into the red by the end of the day as well.
Being Conservative
Loughridge did acknowledge that IBM was taking a conservative approach heading into this year because of "an uncertain economic environment we are working through along with the rest of the business world," he noted.
"We have a strong geographical mix," he added, along with a steady stream of revenue from annuity deals — long-term contracts signed to provide services over a seven- or 10-year period, with guaranteed annual revenue for Big Blue. "If you are going into an uncertain climate like this, that annuity base is a tremendous advantage for us."
IBM's diversification sets it up to weather any U.S. downturn, but would still hurt its quest for solid year-over-year profits, UBS Analyst Ben Reitzes told the E-Commerce Times. IBM has set a goal to turn in 16 percent profit growth annually by 2010.
"They likely have built at least part of that profit outlook on some assumptions that may be coming into question," Reitzes said. IBM's key software unit-the linchpin to its long-term profit strategy, posted a strong fourth quarter, with 12 percent growth. Big Blue also picked up still more software acquisitions in the quarter.
"Just how much they've able to diversify into new regions and rely less on traditional tech spending cycles will become clear if there is a downturn," he added.
Global Business
Already, IBM's Americas region is a laggard, but still a growing one, with revenue up 5 percent to $11.7 billion. By contrast, its business is growing at breakneck speed in places such as India, Brazil China and Russia — sales in those four countries rose nearly 40 percent — thanks in large part to significant investments on the ground in those markets.
That trend is likely to continue. Late last month, Forrester Research reduced its outlook for North American IT spending growth to about 5 percent, down from more than 6 percent in a previous forecast.
That outlook assumes a significant slowdown during the first half of the year, but not yet a true recession, something that more and more economists are citing as a possibility, noted Forrester analyst Andrew Bartels.
"The writing on the wall is clearly pointing to slower growth, and it won't take much to upset the apple cart and turn that into a true recession," he said. The fact that stocks are reacting as much as they are to individual company's earnings — even bellwether firms such as IBM and Intel — is a sign that investors are searching for direction themselves, Bartels added.
IBM, meanwhile, noted that its services business continued to score significant contracts during the fourth quarter, including a five-year deal with Vodafone to manage data centers for that company's mobile business in India. Loughridge also predicted the weakest business unit in the fourth quarter — the hardware unit, where sales were dented by the decision to dump a printing line — would rebound later this year thanks to newly debuted Power6 and z-line servers and mainframes.