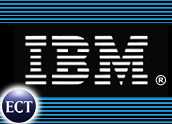 IBM posted fourth quarter results that beat Wall Street forecasts for sales and profits, with all of its divisions turning in strong performances.
IBM said profit climbed 12 percent to US$3.1 billion, or $1.81 per share, with income boosted by currency exchange rates. Though revenue was up 7 percent over the fourth quarter of 2004 to $27.67 billion, the rate of growth slows to 3 percent.
Services revenue, often seen as a key barometer of IBM's performance, rose to $12.6 billion compared to $11.4 billion last year, with a backlog of work estimated at around $111 billion at year's end.
Hardware, Software
The company also saw growth in its hardware systems group, which sells servers and other high-end IT equipment, with sales up 4 percent to $9.5 billion on the strength of xSeries and pSeries servers. Sales of the zSeries mainframe and the iSeries midrange servers and storage systems were lower, however.
Software was another strong area, with sales up 7 percent to $4.5 billion and middleware brands such as WebSphere, DB2, Tivoli and Lotus growing 8 percent.
Overall, the results represented a "powerful fourth quarter" for the information technology hardware, software and services provider, CEO Samuel J. Palmisano said.
"It was IBM's strongest fourth quarter ever, with earnings exceeding $3 billion for the first time," he said.
In the long run, the most significant development of the quarter might have been IBM's decision sell its personal computer making business to China-based Lenovo for $1.75 billion. That deal is expected to close sometime in the first half of 2005, and IBM will continue to own a stake in the business.
Focus on Enterprise
The personal systems unit had sales of $3.5 billion in the fourth quarter, an increase of 2 percent over a year ago. However, that unit is also among the weakest in terms of profit generation as IBM has been forced to compete with the likes of Dell and HP on price.
"The strategic actions that IBM took last year have increased our focus on delivering high value to enterprises," he added.
For that reason, slowing growth in some areas is not as much of a concern. Some analysts see Palmisano positioning the company to grow profits going forward. For instance, net income in the services sector was up 25 percent even though sales were up just 10 percent.
As if to underscore the value of creating a more profitable IBM, even if sales growth doesn't match previous levels, Palmisano noted that Big Blue sent some $8 billion back to investors in the form of dividend payouts and stock buybacks.
Shifting Sands
Gartner analyst Martin Reynolds said IBM's move away from PCs made sense, since the rest of the company's businesses enjoy far higher margins. Over time, that could start to change as Dell and others find more traction and acceptance in the higher echelons of enterprise IT sales.
"For now, IBM can still stand on offering more value to customers" by being able to offer services, outsourcing, software and hardware all in a single stop, Reynolds said. "IBM recognized that it would have to swallow its margins to compete at the low end, and it didn't want to do that."
For all of 2004, IBM had revenue growth of 8 percent, including 5 percent in North and South America and double-digit growth in several overseas markets, including Asia and Europe.