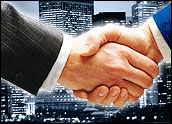 Continuing efforts to push its search tools deeper into the business environment, Google said it had struck a deal with IBM to have its enterprise-grade desktop search function integrated into Big Blue tools that search networks.
Under the deal, terms of which were not disclosed, customers using IBM WebSphere Information Integrator OmniFind will be able to use a plug-in version of Google Desktop for Enterprise interface to access database search results. The desktop plug-in will be available for free download from Google and IBM.
The WebSphere tool searches information in databases and other applications and enables users to retrieve information on demand. The tighter integration with the desktop tool will add additional information to that store of data, including e-mail and files such as presentation and documents that are stored locally on a desktop.
Dave Girouard, general manager of Google Enterprise, said the single tool will combine multiple software solutions to help users "reach a broader set of enterprise data sources."
The integration is an expansion of an earlier partnership between Google and IBM — one that many analysts view as a direct challenge to Microsoft's place in the enterprise desktop environment. Earlier, the two companies announced that Google's enterprise desktop could be configured to search the full text of IBM Lotus Notes mail messages stored on a user's PC. The new integration will enable a search of an entire Notes database as well as messages stored on mail servers instead of a desktop.
Bringing Structure
"With this announcement, we are providing IBM enterprise search customers additional tools to help them more easily find information wherever it is, now including the desktop," said Jon Prial, vice president, content management and discovery at IBM. The integration, he added, "creates a powerful search combination across the desktop and a variety of enterprise sources."
The integration helps both companies by giving IBM an instant new tool to help customers search and giving Google a high-profile spot in many major enterprises. The tool also highlights IBM's own search advances, including strides made in searching for specific content in so-called unstructured data, which makes up the bulk of data in most enterprise settings.
Some see larger motivations at play, however, with the possibility of additional tools that would structure loose data found in the searches to make it more manageable and aid with compliance requirements. And there are clear competitive reasons for expanding the partnership.
"One reason for the Google and IBM romance may be a mutual enemy in Microsoft," said Search Engine Journal editor Loren Baker. "Add the Google and Sun Microsystems partnership to the mix and you basically have Google lined up with two of Microsoft's strongest competitors. What's next? Google and Apple working together to integrate iTunes into Google's search engine?"
Enterprising Unit
Google has been putting considerable resources into moving into the business space with its search tools. Though it doesn't break out results specifically for the enterprise unit, Girouard recently told the E-Commerce Times that sales were growing at a strong clip and that the enterprise unit was already profitable.
Google has taken a number of different paths to break into the business market. It has aimed its Google search appliance at medium and small businesses and has taken a partnership approach to expanding in larger corporate settings. In September, Google announced a program to let third party developers build Google search tools into their programs, inviting systems integrators, consultants and others to be trained in how Google search could be used to search data behind network firewalls.
Girouard said when Google launched its partnership program that it was a recognition that Google did not have the consulting or integration expertise to know how best to deploy Google in specific enterprise settings, but was confident that its enterprise search technology could be a useful addition to many networks.
While Google says its enterprise unit is growing, analysts say Google benefits from the efforts primarily by boosting use of its Web search tools, which in turns creates additional opportunities to sell paid search listings and other forms of advertising that provide the bulk of Google's revenues.