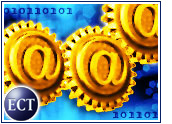 In an effort to boost corporate IT spending by tapping a previously underserved segment of the market, IBM has rolled out an e-mail offering geared toward so-called deskless workers.
Big Blue's product, which was developed by the company's Cambridge, Massachusetts-based Lotus unit and can cost as little as US$1 per user per month, hit the market exactly a week after Hewlett-Packard, Sendmail and Intel announced they would team to pitch a similar solution to enterprises.
Both moves target employees who spend their days on their feet or in the field — such as factory and warehouse workers, retail clerks and airline staff — but who still could benefit from being connected to an enterprise-wide messaging system.
The IBM solution is being billed as one of the first products in a new wave of flexible solutions Big Blue will roll out across its family of software offerings. This initiative is intended to enable enterprises that choose not to buy bells-and-whistles versions of IBM products to choose scaled-down or simplified versions.
New Targets
IBM is banking on customers buying a stripped-down version of its Lotus collaboration software for deskless workers as a way of cutting down on routine paperwork, such as corporate notices, through use of common workstations or kiosks.
"Nearly half of the companies we've surveyed have told us that a significant percentage of their employees have no access to e-mail, either because of job function, location or other factors," IBM vice president Ken Bisconti said. "But as e-mail becomes more and more critical to productivity and business results, companies need a cost-effective way to extend e-mail to their entire employee base."
HP and its partners hope to tap the same customer base with their Workforce Mail, a Linux-based solution that HP says is ideal for workers ranging from hospital nurses to delivery drivers. According to HP, this offering provides additional safeguards by giving enterprises control over how remote workers use e-mail.
Priming the Pump
IDC analyst Mark Levitt said the market is ready for such products because corporations are still forced to use traditional paper-based methods of communicating with some employees.
"This enables an organization to speak to all employees at once and ensure a consistent message and voice," Levitt told the E-Commerce Times.
Instead of traditional means of communicating policy or company decisions, e-mail offers a two-way line of communication that can boost morale, he added.