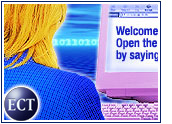 Hewlett-Packard has purchased a Swedish software firm that specializes in interactive voice solutions, saying it will roll the smaller company's VoiceXML-based products into its own OpenCall offerings, which are geared toward the telecom industry.
HP did not disclose what it paid for PipeBeach AB, a privately held firm with headquarters in Stockholm.
Although the deal is considered relatively low-profile by analysts, it makes HP the latest high-tech bellwether to ink an acquisition pact in recent weeks. So far, this year has been marked by a slew of mergers-and-acquisitions activity.
For example, EMC is looking to wrap up its US$1.3 billion Legato Systems pickup, while PeopleSoft has already closed its takeover of J.D. Edwards, a deal worth about $1.8 billion when all was said and done. Meanwhile, Yahoo hopes its $1.6 billion buy of Overture can pass regulatory muster and close by year-end.
Piece by Piece
However, HP's PipeBeach acquisition more closely resembles similar private-company pickups executed by Microsoft. For instance, the software giant recently bought Romania-based GeCAD Software in a bid to boost its antivirus capabilities.
"These deals give a company instant access to technology," Forrester Research analyst Rob Enderle told the E-Commerce Times, noting that to develop such technology in-house would require far more time and money. "For a company with cash or attractive stock, the deals can be done at very little cost and really strengthen a product line overnight."
Voice Not Over
HP said PipeBeach's products enable voice commands to be used to select interactive and Web-based features through mobile phones and other devices. According to the company, the technology's uses include stock quotes, converted e-mail and even some e-commerce transactions, such as online banking.
HP vice president Jean-Rene Bouvier said his company is "committed to the interactive voice market." The company has cited market research estimating that spending on voice technology, ranging from software to consultant services and integration projects, will grow rapidly and will total an estimated $20 billion by 2005.
Bouvier said HP intends to use PipeBeach software to build on its existing marketplace presence by offering developers a VoiceXML environment that will work across multiple platforms. The company is seeking to grow the use of voice portals, pitching them as a cost-saving and loyalty-boosting option for telecommunications providers.
"We can establish HP as a global provider of interactive voice solutions," he added.
Software Marriage
The HP deal came as another major software merger involving two California enterprise application firms also was being announced.
Hyperion, which makes software that helps businesses measure how well their systems are performing, said it will buy business intelligence software maker and longtime partner Brio for $142 million in stock and cash.