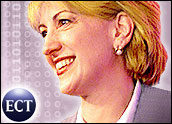 Hewlett-Packard posted its best sales figures in company history during the second quarter, exceeding analysts' revenue expectations and matching profit forecasts as demand for printers, servers and outsourcing services remained strong.
Offering more evidence that its 2002 merger with Compaq was a good idea, HP posted record sales of US$20.1 billion, 12 percent higher than a year ago and well ahead of the consensus estimate of Wall Street analysts, who had pegged the number at $19.3 billion.
HP met expectations for earnings, which rose 34 percent to $884 million but were slightly dampened by a $70 million charge stemming from a billing dispute with the Canadian government. HP agreed to pay back some $100 million to settle that case but said it plans to pursue third parties, which it claims are responsible for the problems.
Looking Up
HP also raised its sales forecast for the rest of 2004, saying revenue in the next six months could be as much as a billion dollars higher than previously predicted, with a top range of $40.7 billion.
CEO Carly Fiorina said HP is gaining ground on several fronts. For instance, the company solidified its hold on the printer market, though rivals such as Dell have claimed to be making inroads as well. HP said sales of printers, digital cameras and related products, such as toner and ink cartridges, rose 11 percent in the quarter.
"Our business continues to fire on all cylinders," Fiorina said during a conference call. "We're gaining ground despite competitive rhetoric."
Rising Tide
Server sales were also an engine of growth, with the ProLiant line alone expanding 15 percent, despite the fact that HP found itself forced to lower ProLiant prices amid fierce competition from IBM, Dell and others.
Still growing rapidly is HP's services business, which is benefiting from the outsourcing trend. Revenue in the services unit totaled $3.5 billion in the quarter, with managed services alone growing 50 percent.
Only HP's software business remains in the red, although its losses were attributed in part to HP's recent buying spree of small niche firms that it plans to integrate as part of its overall enterprise strategy.
Sharing the Market
Noting that HP was trumpeting its strong desktop and mobile computer sales, Gartner vice president Charles Smulders said the improving high-tech economy and rising demand will enable all of the major vendors to continue to claim victory, even as they swap the lead in various market-share categories.
"The overall pie is expanding enough that all of the top companies will be able to flex their muscles," Smulders told the E-Commerce Times.
HP's strong printing performance is important, he added, because Dell has begun selling more printers — and, equally as important, the lucrative supplies that go along with them.
Fiorina said another market with huge potential for growth is desktop machines running on Linux, but HP is not counting on that market in the short term. In March, the company announced a partnership with Turbolinux to deliver Linux-loaded machines for the desktop in some Asian markets.
"I would call it interest, as opposed to demand," Fiorina said.