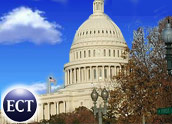 The long-running debate over net neutrality took another turn Thursday when two lawmakers introduced a bill that would make it a violation of antitrust law for broadband providers to discriminate against different types of content in routing traffic on their networks.
John Conyers Jr., a Democrat from Michigan who is also chairman of the House Judiciary Committee, and Rep. Zoe Lofgren, a California Democrat, introduced the "Internet Freedom and Nondiscrimination Act of 2008."
The legislation would require that Internet service providers (ISPs) interconnect with other network access providers "on a reasonable and nondiscriminatory basis" and that they take a similar approach to assure that all content, applications and Web services are treated equally.
"Americans have come to expect the Internet to be open to everyone," said Conyers. "The Internet was designed without centralized control, without gatekeepers for content and services. If we allow companies with monopoly or duopoly power to control how the Internet operates, network providers could have the power to choose what content is available. Many of the innovations and products we use every day, such as search engines, music download services and online video, likely would never have developed in such a restricted environment."
Recent events have made the need for such a move more urgent than ever, commented Lofgren. "We need a meaningful remedy to prevent those who control the infrastructure of the Internet from controlling the content on the Internet."
Two for One
The legislation came just days after the House Energy Committee heard a debate on another neutrality-related bill. The Internet Freedom and Preservation Act, filed by Rep. Edward Markey, a Massachusetts Democrat, and Mississippi RepublicanChip Pickering, would direct the Federal Communications Commission to find ways to force neutrality onto broadband providers, while also requiring them to maintain basic network standards on privacy, pornography and other matters.
The FCC has been looking at the neutrality issue on its own, spurred on by the controversy sparked by the admission of cable provider Comcast that it was using traffic management tools to divvy up the bandwidth on its network, sometimes delaying connections to peer-to-peer sites such as BitTorrent slightly in the process.
The most recent bill carves out new territory by seeking to leverage antitrust law — specifically, the provisions of the Clayton Antitrust Act of 1914, which prohibits charging different prices to different buyers for the same products — as the enforcement tool to ensure that neutrality rules are followed. Given the potential penalties from antitrust cases can run the gamut from heavy fines to the forced breakup of companies, the bill could give neutrality some real teeth, something that critics of the FCC approach say is lacking from more regulatory approaches.
An Opportunity to Provide Clarity
Some direction from Congress is needed to clear up the confusion at the FCC, where Chairman Kevin Martin has expressed doubt about whether the commission has the authority to force providers to keep their networks open, Free Press Policy Director Ben Scott told the E-Commerce Times.
"Congress has a chance to provide clarity where there is confusion," Scott said. "Recent events show that Congressional action is needed if the open Internet is to be preserved for consumers and businesses alike."
Markey's bill got a chilly reception from lawmakers earlier this week, and lawmakers may also be wary of using existing antitrust laws to enforce neutrality, since such cases can take years and cost millions to prosecute.
Such details may be less important than Congress taking some action, however. "The larger issue is that there's two different views of the future Internet facing Congress, the open one we have now or one that operates more like cable TV networks," Scott noted. "Our hope is they keep their eyes on preserving an open Internet for consumers."
Changes Coming
The debate is ramping up amid signs that the way users buy and consume high-speed Internet access may soon be changing. This week, Comcast was reported to be mulling a plan to cap monthly Web downloads and charge users who exceed that limit, while Time Warner Cable will soon test a metered approach to broadband that mirrors the way wireless network access is sold.
The cable industry has not helped itself by being unclear with consumers about what types of steps may be taken behind the scenes to manage network traffic, said JupiterResearch analyst Ian Fogg.
"Consumers think their monthly fee buys them all the access they want or need," he said. "When they hear that's not the case, they feel taken advantage of. The fact [that] the user agreement fine print has caveats about managing networks doesn't seem to be a very strong defense either."
Overseas carriers are already publicly considering different approaches to a tiered Internet, including providing content and services companies that pay a fee access to a high-speed lane of sorts.
"There is a clash of business models and the way people use the Internet," Fogg told the E-Commerce Times. "If regulators do take a hands-off approach, there will be dramatic changes in the industry before long."