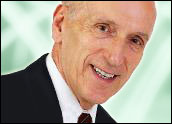 Technology has finally made its impact on medical practices. In order to achieve greater efficiencies within their office and administrative staff, many physicians have now gone from paper to computer. Additionally, diagnoses and delivery of quality patient care are greatly enhanced with the assistance of technology.
But the use of technology has not created an ideal situation for the entire medical profession. Many analysts feel that for a computerized office to be economically feasible, it must consist of more than five doctors. Unfortunately, since many practices consist of fewer than five physicians, this leaves out about half of the medical profession.
For office practice technology to become more widely adopted, there must be enhanced patient care and added economies. There is no doubt in my mind that, if properly used, computers will increase the quality of patient care. And they are in fact doing just that. The rub will be whether or not this technology will become affordable for the smaller office practice.
---

Listen to Ted di Stefano (7:43 minutes)
---
My feeling is that medical practice technology — which includes not only office management but also care management — will become increasingly less expensive in the future. There is such a national demand for healthcare computerization that it is inevitable that prices will be dropping on medical practice hardware and software.
Benefits of a Computerized Doctor's Office
A recent annual visit to my doctor's office showed me just how efficient electronic health records could be. I quickly noted that all of the healthcare professionals (doctors and physician assistants) were walking around with tablet PCs. These small laptops contain all of a patient's medical records that were formerly on paper.
This does not mean that the doctor has to have each of his patient's records on this small tablet PC. The fact is, my doctor's office has WiFi and he merely had to pull up my name from his main computer, and all of my records were instantly found. (For additional information on WiFi, please see my previous E-Commerce Times article, "WiFi Will Change the World.")
In addition, my doctor's tablet PC contained patient screening protocols that assist the healthcare professional in asking the right questions and not forgetting any important ones. My physician asked me a long list of questions such as do I wear seat belts, how much do I drink, etc. Additionally, he asked me some questions never asked before. It seemed obvious to me that all of these questions emanated from his computer, because he was looking at it as he was questioning me.
I had a pleasant surprise when I went to the reception desk to pay my bill. The receptionist already knew both the amount and the fact that the doctor didn't need to see me for one year. I asked, tongue in cheek, how the doctor could possibly beat me to the reception desk when I had just left him in the examining room.
She laughed and said that this was one of the wonderful features of the new computerized office — appropriate information was immediately available to all of the staff. Therefore, there was no way that I could "beat" the flow of data from the examining room to the reception area.
Medical Errors Reduced
With such a plethora of patient data that a doctor must contend with, it is no wonder when a diagnostic report, blood work or other data get misfiled in the traditional paper office. Now, much — if not all — of this has been eliminated with a computerized office.
The doctor now has immediate access to patient X-rays, MRI results and other diagnostic reports. And this data is all available in one patient file via the computer.
Additionally, the physician does not have to go back to his or her office to look at a desktop computer. It's all available on a portable tablet PC, thanks to computer and WiFi technology. The physician is totally mobile now and can even walk to an adjacent hospital with this small computer while still accessing a patient's records (given, of course, that the WiFi network includes the hospital).
Over the years, there has been considerable concern about physicians and hospitals making prescription errors due to a lack of communication as to what actual medicines a patient may be taking. This problem can now be eliminated with electronic health records.
Do you remember the Physician's Desk Reference, that large book that the doctor would consult from time to time? I'm sure that it won't surprise you that this book is now available in PDA (personal digital assistant) format.
In fact, I once saw a doctor pull this once ponderous tome out of his pocket, then "pick" at it with his stylus. From my perspective, this PDA looked like a Palm Treo, the ubiquitous personal digital assistant that so many of us are using for multifunctional purposes.
The Challenges for Medical Technology Companies
From my point of view, the makers of medical practice software and computers that make health records electronic have a big challenge if they are to fully penetrate the medical industry. That challenge is to deliver a quality product that is more affordable for the small practitioner.
My guess is that within the next five years this challenge will be met. There is no doubt in my mind that economies of scale, which will make paper medical offices a thing of the past, will be achieved in a short period of time.
When you think about the fact that half the doctors' offices in the country have fewer than five doctors, there is a large untapped reservoir of physicians' offices waiting to be serviced by the medical technology industry. I'm sure that the software makers and computer manufacturers are well aware of the wonderful opportunities out there.
It will be just a matter of time when the majority of physicians' offices will be served by modern technology and be paperless.
Good luck!
---
Theodore F. di Stefano
is a founder and managing partner at
Capital Source Partners
, which provides a wide range of investment banking services to the small and medium-sized business. He is also a frequent speaker to business groups on financial and corporate governance matters. He can be contacted at
[email protected]
.
---