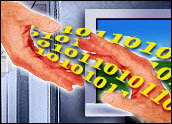 Grokster, the peer-to-peer network that was heir apparent to the original Napster, has gone the way of its infamous predecessor, agreeing to shut down the distribution of its software and pay US$50 million to settle copyright infringement claims brought by record and movie studios.
The surprising development is another victory for the entertainment industry, which has made shutting down sites and networks that foster illegal sharing a major aim of its aggressive campaign against illegal song and movie downloads.
Continuing the Transition
The move comes four months after the U.S. Supreme Court let a lawsuit against Grokster move forward, finding essentially that there was a chance the studios could prove Grokster marketed its software as a tool that could be used to swap songs illegally.
Though the record labels would have had to prove to a lower court that the software was intended to be used for such copyright violations and that Grokster encouraged or induced those activities, many observers thought the labels had a strong case. Grokster apparently agreed.
Analysts noted that because it is a true peer-to-peer (P2P) distributed network, the owners of the Grokster software can't effectively shut down the entire network and that it's likely that at least some swapping will continue on the network for the time being. However, shutting the parent site down does send a strong message to Grokster users that they are at legal risk.
Still, the music industry was claiming victory, with the Recording Industry Association of America (RIAA) calling it "an important milestone in the continuing transformation of the online marketplace."
"At the end of the day, this is about our ability to invest in new music," said RIAA CEO Mitch Bainwol. "An online marketplace populated by legitimate services allows us to do just that."
We'll Be Back
Grokster said on its Web site that it would endeavor to return as a legitimate site, apparently hoping to follow in the footsteps of Napster, which was reborn as a paid download site after its underground days were ended by lawsuits and other legal action.
Grokster had some allies in the battle for its legal survival, with some tech-industry lobbying groups worrying that the Supreme Court ruling would have a chilling effect on new technology development as firms feared they would be liable if their devices were used for illegal purposes.
But the costs of continuing to fight may have eventually sapped the firm's ability to raise new capital, particularly as long as legal questions lingered and with the Supreme Court ruling going against it.
Late yesterday, Grokster posted a note to its Web site saying: "The United States Supreme Court unanimously confirmed that using this service to trade copyrighted material is illegal. Copying copyrighted motion picture and music files using unauthorized peer-to-peer services is illegal and is prosecuted by copyright owners.
"There are legal services for downloading music and movies," the note continued. "This service is not one of them. Grokster hopes to have a safe and legal service available soon."
The note also refers visitors to two sites that have information about copyright infringement.
What Next?
It's unclear how long it might take Grokster to reappear in a new, legally compliant form. It's likely to be faster than the Napster revival, however, since there is heavy interest in using P2P technology to enable legal file downloads.
In fact, reports that other companies would want to scoop up the remaining assets of Grokster appeared quickly after the shut down, with Mashboxx, a firm trying to provide legitimate P2P services to studios, among those interested in taking on the company's technology. Grokster and Mashboxx were rumored to be in talks about a merger before the shut down.
Meanwhile, many observers believed the shut down and the message it sent would provide yet another boost to Apple's iTunes Music Store, the most high profile and most popular of the legal digital music download sites.
Jupiter Research analyst Mark Mulligan said the win may not be as impressive as it appears on the surface for the music industry.
"On the face of it, this is a key victory for the music industry," he said. "However, in practice it doesn't actually achieve much more than a token victory. The problem with de-centralized file-sharing networks is that you can't close them down."
In addition, "many Grokster users will have already moved on to other networks and in any case Grokster was never a P2P heavyweight in the sense that Napster, Morpheus or Kazaa were," Mulligan said.