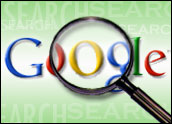 Search engine leader and stock market darling Google has warned investors that its skyrocketing growth rate is slowing, a development analysts knew was inevitable but one that might be coming sooner than many had expected.
In a filing with the Securities and Exchange Commission, Google said that the growth rate would drop due to competition and the law of large numbers. The filing is notable in part because when it went public, the company said it would eschew short-term updates in favor of the big-picture view.
"Our business has grown rapidly since inception, and we expect that our business will continue to grow," Google wrote in the filing. "This growth has been characterized by substantially increased revenues.
While it posted a 15 percent quarter-over-quarter increase in sales when it reported third quarter earnings, even that number represents a slowdown over its pre-IPO growth rate.
Recent Growth Not Sustainable
"Although our revenue growth rate increased in the third quarter of 2004 compared to the second quarter of 2004, our revenue growth rate has generally declined, and we expect it will continue to do so as a result of increasing competition and the inevitable decline in growth rates as our revenues increase to higher levels."
Google said its most recent growth rate "may not be sustainable into the fourth quarter of this year and in future periods."
Meanwhile, Google said its operating margins will also be lower in the current year due to its settlement of various legal disputes with Yahoo and because more of its revenue is coming from partner sites rather than its own search properties. Google makes less money on ads it places on affiliated sites.
Analysts said the slowdown was inevitable given how rapidly Google had grown. However, some said the maturation process might have happened faster than some investors had hoped.
The warning might also be a recognition that Google's many innovations, including rumored products such as a browser and known efforts such as its social networking forays, will not become significant revenue producers in the short term.
New Endeavors
"Any of the new paths that Google might be considering taking will take time to play themselves out," Forrester Research analyst Charlene Li said. "Their search and advertising businesses are going to make up the vast majority of their revenue for years to come."
It's not lost on some analysts that Yahoo had a similar reliance on marketing income until CEO Terry Semel took over and greatly diversified the company's revenue stream to include more subscription dollars and related businesses such as job listings and dating services.
Other analysts said Google could be simply trying to cool off expectations for the fourth quarter, adopting the tried-and-true tactic of warning ahead of time rather than disappoint investors with the results.
Matter of Time
Those who have followed Google since before its much-ballyhooed IPO say some investors might have been taken off guard by the slowdown warning, though it was inevitable.
"Part of the Google story is the growth," Tom Taulli of CurrentOfferings.com said. "But there's more to it than that. It also told a profit story and a technology story. Investors were buying more than the growth story."
Taulli said investors might turn their attention even more to the bottom line to see if Google can continue to find ways to grow profits. Still, the fact that Google shares have fallen off their recent peak might hint at a belief that competition will eventually dent Google's advantage. In addition, most investors have not seen enough of Google's new ventures to determine if they'll bear fruit.
Google shares were lower in morning trading, dropping more than US$3, or 1.79 percent, to US$169.42. The stock has cooled substantially since its 52-week high of $201 on November 3. Some have attributed the drop to a secondary wave of stock that came into the market when the so-called lockup period expired.