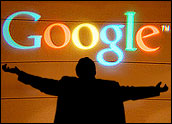 Google has become increasingly comfortable with the process of acquiring and integrating large merger-and-acquisitions targets, but intends to focus more on targeted buying of smaller firms, Google CEO Eric Schmidt said during a briefing with reporters ahead of the company's annual shareholders meeting.
Schmidt seemed to suggest that Google is embarking upon a major buying spree, though he did not rule out more large-scale acquisitions akin to its recent purchases of YouTube for US$1.65 billion and interactive ad firm DoubleClick for $3.1 billion.
"We are more comfortable now than we were a few years ago to buy real businesses," Schmidt stated. "But we are not doing it for competitive reasons. We are doing it because it is part of building out a portfolio."
Additional Deals Ahead
More deals are likely as Google finds additional opportunities to plug gaps in its offerings and beef up its technology selection, Schmidt noted. "I think the pace will accelerate, but it is not a fundamental shift and we are not going to do it every day," he said.
Google's acquisition strategy is important not only because of the direct impacts, but also because it has a significant ripple effect, with other players in the online content, search and advertising space often forced to react when it makes a move.
For instance, within a few days of its DoubleClick purchase — apparently out-maneuvering online rivals in the process — Microsoft was said to be in talks with another ad firm, 24/7 Real Media, Yahoo! bought online syndication firm Right Media and word broke that Microsoft and Yahoo were talking merger.
Buying and Building
Nevertheless, Google will become involved in the consolidation trend now taking place in the traditional media and news delivery world, Schmidt said. Currently, Thompson Financial is bidding to buy Reuters, and Rupert Murdoch's News Corp. has made an unsolicited bid to buy Wall Street Journal parent Dow Jones.
"We made a decision to focus primarily on user-generated content, and not on businesses where we would own the content," Schmidt said, adding that it often makes more sense for Google to partner with such content owners.
Still, Google cofounder Larry Page suggested that Google remains interested in journalistic content, though it believes it can help democratize that content along the way.
How to get more people working on reporting and commenting on news is a question the company often ponders, he added.
Engineering Talent
Google's acquisition strategy is often more about acquiring engineering talent than a brand name or even a product, Schmidt added.
"In the past, we would buy businesses in lieu of engineers," he explained. Google still makes such purchases on a regular basis, scooping up under-the-radar startups at the rate of one a week.
Keeping Google's culture and spirit alive amid the rapid growth — whether through acquisition or its own organic growth — is also a concern for Schmidt. "In the last year, my biggest worry has been scaling the business," Schmidt said. "When you grow this quickly, you are bringing in employees who believe they understand the Google vision, but there is always the possibility you will lose the formula."
Watching Closely
The backdrop of the recent Google moves and potential next buys is a large-scale wave of consolidation that is driven by the presence of large amounts of cash, both on company balance sheets and in the hands of private equity firms.
"Google has recently been able to have its way with Yahoo and Microsoft," Enderle Group Principal Analyst Rob Enderle told the E-Commerce Times. "It seems they come out on top of every merger talk or partnership discussion that happens in the space."
Meanwhile, Google is not planning to split its stock, which would make the shares more affordable as the stock hovers at or near the $500 level, the company told shareholders at its meeting. The search company also suggested a more streamlined tagline for its internal strategy: "Search, ads and apps," or applications.
Bringing Order
That motto reflects the growing importance of its Web-based applications and software, which includes apps that compete with products from Microsoft's Office suite.
Google appears to be trying to bring order to its sprawling menu of initiatives, which risk making the company seem bent on global domination at times, JupiterResearch analyst David Card told the E-Commerce Times.
Still, the three items don't seem to fully cover the scope of Google's ambitions, Card added, especially since the suggestion that all such efforts will take place online flies in the face of Google's aggressive moves into radio, newspaper and television advertising.