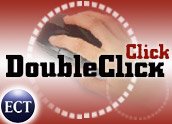 Search giant Google may be joining the list of suitors for interactive marketing firm DoubleClick — reportedly joining Microsoft, Yahoo and Time Warner's AOL in the potential buyer pool.
Google is in talks with DoubleClick's majority owner, San Francisco-based private equity firm Hellman & Friedman, The Wall Street Journal reported Monday.
Google's interest comes after reports surfaced last week that Microsoft was considering buying DoubleClick. Yahoo and AOL — a major customer for the advertising firm — also reportedly held talks with the owners, though their interest is judged to be less intense than that of Google and Microsoft.
Lifting the Sale Price
Google's arrival on the scene is likely to lift the price of any deal to around US$2 billion, The Wall Street Journal report stated. That would be slightly less than double that Hellman & Friedman and other investors paid for the company when they took the company private in 2005.
Neither Google nor the owners of DoubleClick immediately responded to requests for comment.
The search engine players are vying for one of the major providers of graphical ad serving on the Web, one that did an estimated $150 million in sales in 2006 and firm with roots that stretch to the early days of the Web advertising business. DoubleClick has some 1,500 advertising customers, the company stated.
Build or Buy?
Google was likely spurred to action by Microsoft's interest in DoubleClick, which serves as an important go-between for many advertisers, helping them work with multiple content publishers at once to get their messages out on the Web, Search engine expert and Google book author John Battelle told the E-Commerce Times.
The company has been changed since it went private, with the owners selling off its Abacus data management unit to Alliance Data Systems for an undisclosed sum, though the purchase price is believed to have been around $500 million.
Google may have considered building an alternative to DoubleClick and could likely have found ways to gain a competitive advantage if it did so, such as by offering the ad-placement services for free, Battelle stated.
"Google can't let this stand," he said, of Microsoft's potential purchase. "It's a major risk to its business to force advertisers to change behavior — it needs a third-party ad serving solution."
DoubleClick Then and Now
DoubleClick was one of the first major interactive marketing firms, with its fortunes rising rapidly along with the first wave of dot-com companies and then ebbing when the collapse followed.
DoubleClick stock soared to close to $100 per share early in 2000, but eventually sold for $8.50 per share. The company was publicly traded for nearly seven years before being taken private.
The buyers scooped up DoubleClick just as the online advertising business was starting to soar again and may be in a position to cash in handsomely as a result.
An Important Place in the Market
While AOL is a DoubleClick customer, the company serves ads to all of the major search engines and Web publishers. Another key customer is News Corp.'s MySpace, in which Google last year paid $900 million for the rights to display its advertising.
DoubleClick is important because most major advertisers are accustomed to working with third parties to handle their advertising distribution — rather than the self-service approach that has become popular online thanks to the platforms built by Google, Yahoo and others that enable advertisers or ad agencies to directly control their ad distribution.
The suitors likely have a willing seller to work with. The private equity firms didn't purchase DoubleClick for the long haul and have likely been evaluating various exit strategies for some time. Another IPO also may be a possibility.
Just Driving Up the Price?
For Microsoft and Google, buying the firm would enable them to market another service to businesses, offering the chance to hand over more of the advertising evaluation, planning and placement duties. The question may end up being how much is too much to pay and whether a bidding war would force others to back off.
In fact, Google's interest may be in driving the price up, forcing Microsoft to spend more than it wants to avoid having the company go to its rival, Battelle noted.
Meanwhile, if one of the companies bought DoubleClick, it could stop sending ads to the networks of its rivals while boosting its own revenue at the same time, making the purchase a highly strategic one, Global Equities Research analyst Trip Chowdhry told the E-Commerce Times. Still, there would likely be some lost revenue as well: AOL might seek a new partner if DoubleClick were owned by a rival in the search and ad space, he stated.