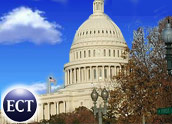 Google and Microsoft squared off as usual Thursday, but this time instead of the competitive battlefield, they met on Capitol Hill, where lawmakers are weighing the question of whether Google's purchase of DoubleClick will create an unfair online advertising monopoly.
Representatives of both companies testified before a subcommittee of the Senate Committee on the Judiciary — which reviews antitrust cases — examining the deal and its implications for consumers, both interms of antimonopoly laws and potential risks to consumer privacy.
The hearing came as the Federal Trade Commission (FTC) continues toevaluate the merger nearly six months after it was first announced. Lawmakers could press the FTC to stop the hearing or urge that Google make concessions aimed at assuaging concerns about the combination.
Contrasting Views
Not surprisingly, the two rival companies brought starkly contrasting views on what the online advertising landscape will look like if the US$3.1 billion acquisition is allowed to proceed.
Microsoft Senior Vice President and General Counsel Brad Smith — who is no stranger to antitrust matters, having steered the software maker through regulatory gauntlets in the U.S., Korea and Europe — told lawmakers that as online advertising goes, so goes the future of the Internet.
"Online advertising is rapidly emerging as the fuel that powers the Internet and drives our digital economy," he said, citing forecasts that within four years, the amount spent on Web ads will be equal to what's now spent each year on TV and radio advertising combined. "Online ads will increasingly provide the economic foundation for a free press and for political life more broadly."
While Google already dominates search advertising, the DoubleClick merger, Smith said, will enable Google to "obtain a dominant gateway position" over non-search ads as well.
"If Google and DoubleClick are allowed to merge, Google will become the overwhelmingly dominant pipeline for all forms of online advertising," he added. Such an environment will be "bad for publishers, bad for advertisers and, most importantly, bad for consumers."
Different Ads, Different Story
Google painted a far different picture, suggesting the acquisition could spur competition. The two firms offer complementary businesses, David Drummond, Google chief legal officer and senior vice president of corporate development, told the committee.
"DoubleClick is to Google what FedEx or UPS is to Amazon.com," Drummond said, adding that Google is confident the deal would not raise antitrust concerns as a result. While Google focuses on text-based ads, DoubleClick's core business is display advertising, he added.
"Our acquisition of DoubleClick does not foreclose other companies from competing in the online advertising space," Drummond added.
The rash of acquisitions that followed in the wake of the DoubleClick announcement earlier this year "underscore the strong competition in the online advertising space," he noted.
Those deals include Microsoft's acquisition of aQuantive — a deal worth nearly twice as much as the DoubleClick buy — Yahoo's purchase of Right Media and several smaller deals, including buys made by AOL and by traditional advertising agency WPP, which bought 24/7 Real Media for $679 million.
"Each of the acquisitions following our purchase of DoubleClick demonstrates that there are many sophisticated, well-financed and competitive companies that believe that the online advertising space merits more investment and remains open to strong competition," Drummond said.
Both companies went to Congress armed with third-party commentary and reports supporting their position. Google released a sheet of newspaper editorials and analyst comments supporting the notion that it's too early in the online ad industry's evolution to declare winners, let alone monopolists.
Microsoft's argument, meanwhile, got a boost from a report issued Thursday by the AEI-Brookings Joint Center for Regulatory Studies. The report, funded by AT&T and Microsoft, suggests that pricing of advertising and advertising tools may change after the merger — and argues that consideration is critical to evaluating the antitrust impact.
Track Record
The subcommittee is being chaired by Sen. Herb Kohl, a Wisconsin Democrat who oversaw similar hearings on the XM-Sirius merger earlier this year and then wrote to regulators pressing them to address consumer impacts of the deal before allowing it to go forward.
Also testifying Thursday was Scott Cleland, president of Precursor, a telecommunications consulting firm. Cleland called the merger a "watershed moment" for Web competition.
"I believe Google-DoubleClick is clearly one of the most far-reaching, least understood and important mergers this subcommittee has ever reviewed," he said, urging lawmakers to block the merger because no conditions will make it palatable. "The best outcome is maintaining Internet competition and denying the merger to keep DoubleClick a viable competitor to Google."
The irony of Microsoft arguing for tough antitrust review will not be lost on lawmakers or regulators, said Yankee Group analyst Laura DiDio.
"The focus should be on the consumer and the marketplace rather than on the corporate personalities involved," she told the E-Commerce Times.
Complicated Questions
The merger review is being complicated by what's likely a cursory knowledge of how online advertising works among the lawmakers, said Sterling Market Intelligence analyst Greg Sterling.
The track record of the Bush administration has been to stay out of the way of mergers, however, he told the E-Commerce Times. "In that context and given that the Microsoft and Yahoo deals were approved, it would still be surprising if the deal were blocked outright," Sterling argued.
Lawmakers will be listening to the testimony, however, and may be swayed based on what they hear and may punt the ball back to regulators at the FTC. "This is a very complex case that raises numerous questions that are not easily or quickly answered," he added.