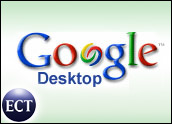 In its first major innovation since its August IPO, Google has launched a desktop search engine tool that allows users to search personal computer files at the same speed they "google" the Web. The new application throws the gauntlet directly in Microsoft's front court.
"Google Desktop Search brings the power of Google to your personal information on your own computer," said Larry Page, Google's co-founder and president of products. "As easily as searching Google, you can instantly search your files, local e-mail, the Web pages you have seen, and more."
Google Desktop Search is a free, downloadable application that allows users to search through e-mail, instant messages, text files and the World Wide Web simultaneously. Designed with user privacy in mind, the new software ensures that the computer's content is not accessible to Google or anyone else.
While other companies have already released desktop search products, and Ask Jeeves and Yahoo are expected to chime in, Google's move has trumped Microsoft in this round of the battle over search technology.
Competition from Microsoft
Microsoft did not immediately return calls seeking comment. However, Joe Wilcox, a senior analyst with Jupiter Research, told the E-Commerce Times that Microsoft is far from down for the count in a morphed version of the browser wars of oh so long ago.
"When Microsoft is motivated, the company can really crank out product," he said. "We saw roughly three versions of Internet Explorer released in 18 months during the height of the browser wars. It's a big company with a lot of R&D dollars."
Also, Microsoft should be plenty motivated, Wilcox said, because the modern-day search tool battle is much bigger than the desktop.
"Google is effectively trying to blur the line between the desktop computer and this big informational system that it effectively searches," he said. "Google's tool fits in with what's happening with other devices, like PDAs and smart cell phones that don't necessarily run Windows."
Shifting the Balance
Analysts said Microsoft's challenge now is to shift the balance back to the forthcoming MSN search tool. In the meantime, Google is enjoying the market advantage by integrating the tool into its highly visited homepage.
Google Desktop Search is available at http://desktop.google.com. It is currently available for Windows XP and Windows 2000 Service Pack 3 and above. It requires a minimum of 128 MB of RAM, and a 400 MHz (or faster) Pentium processor is recommended. Google Desktop Search is available in English now, and there are plans to make it available in other languages.