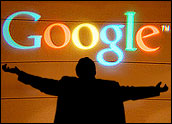 Search giant Google is reportedly close to a deal to purchase video sharing site YouTube for an estimated US$1.6 billion.
Neither company would comment Monday on published reports that suggested the two sides are deep into talks about a YouTube acquisition, one that would dramatically alter the online video landscape by giving Google a well-established video distribution and social-networking property that serves up millions of video clips to viewers every day.
Sooner or Later
Several reports suggest the deal could be finalized and announced sometime this week, while others cautioned the agreement could still fall through. The New York Times reported Monday that the two sides held "marathon talks" over the weekend and that an announcement could come as soon as Monday afternoon. Google shares were up more than 2 percent in midday trading Monday to $428.98.
For Google, the acquisition would be a huge boost for its video search engine. It reportedly made what is considered a pre-emptive bid meant to lead quickly to a deal and to avoid a bidding war over YouTube. Others said to be interested in acquiring the site are media conglomerates such as Viacom and News Corp., as well as Microsoft and Yahoo.
Google has some $10 billion in cash on hand and some analysts have been calling on it to make acquisitions aimed at solidifying its position in the emerging Web video space. Web users watch an estimated 100 million video clips every day through YouTube.
Google has a video search engine that it launched last year and has recently begun striking deals to distribute video owned by others, such as an agreement to send MTV videos across the Web and another deal, also announced Monday, that will allow Google to distribute ad-supported music videos from Sony BMG artists.
Meanwhile, other Web companies are positioning themselves to capture a share of the video distribution market, with Microsoft striking a deal with BlinkxTV to have that video search engine power its video results.
Copyright Concerns
One factor that is dampening enthusiasm for the YouTube deal in some quarters is the potential for YouTube to be sued for copyright infringement. Thousands of videos made by users and stored and distributed through the site use copyrighted music, for instance, and pirated clips of TV shows and movies are also known to appear on the network.
In recent weeks, the CEO of Universal Music Group suggested a massive copyright action could in the making, and indicated that YouTube and MySpace "owe [record labels] tens of millions of dollars" for unauthorized use of copyrighted material.
It's possible that Google believes it can solve the copyright issue by using technology it has developed to filter out potentially infringing videos before they get onto the YouTube network. It's unclear, however, what impact such a filtering process would have on the popularity of the site.
Meanwhile, YouTube announced Monday that CBS had agreed to distribute some content through the site, suggesting that content owners are becoming more comfortable with the distribution channel and its business model than in the past.
Traffic Plus
If the deal goes through, Google would get an enormous boost in traffic. According to Nielsen//NetRatings, Google's own video service drew a unique audience of about 13 million people in August, compared with more than 34 million for YouTube.
It's "not just the sheer numbers" that has Google interested in the purchase, according to Forrester Research analyst Charlene Li.
"YouTube is a gem because it figured out what Google, Yahoo, MSN, AOL, and all of the other video players in the marketplace couldn't — that it's not about the video. It's really about the community that's around the video," she explained.
Comparing videos viewed on the Google Video site to those seen on YouTube emphasizes that point, she noted, with YouTube users invited to interact with the video by rating it, sharing it, making comments or adding meta tags.
"YouTube is winning the hearts of the audience because video search simply doesn't work," Li added. "You have to instead rely on the opinions, ratings and playlist compilations of others to discover good video."
Reports of the Google-YouTube deal seem to be largely speculation so far, search engine analyst John Battelle noted. He added, however, that if YouTube was seeking protection from possible legal infractions, it could do worse than joining forces with Google.
"Google has one hell of a legal team, and its entire business is based on" an exemption from copyright infringement for search engines, he said. Google has also begun to be viewed as a valuable partner for content owners and has made it clear that it wants to stay away from the content creation side of the business.
Some veterans of the online media space were not as enthusiastic about the deal. Mark Cuban, founder of Broadcast.com, which he sold to Yahoo, and firebrand owner of the NBA's Dallas Mavericks, said the deal would be "moronic" and, given Google's deep pockets, would invite a slew of lawsuits.
Cuban said the site that successfully handles the copyright issue is "going to be in a great position to leapfrog those who don't. They can be out enabling great user-created content and building traffic while everyone else is fighting lawsuits."