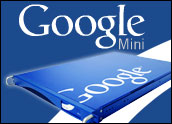 Saying even its smaller business customers need more powerful search solutions, Google is broadening its menu of enterprise-search appliances to include two larger versions of the Google Mini.
The day before the one-year anniversary of the launch of the Mini, Google's first search appliance designed to be affordable in small-business settings, the company is rolling out two higher-priced products that will enable two and three times the number of documents to be indexed and searched.
Many customers realize they have well more than the 100,000 documents that the original Mini can handle, Google Enterprise Product Manager Rajen Shetf told the E-Commerce Times.
Huge Amount of Documents
"We feel we hit the spot" with the Mini, Shetf said, citing strong first-year sales, "but a lot of organizations are finding they have more content than they thought."
New versions hold approximately 200,000 and 300,000 documents and will sell for US$5,995 and $8,995 respectively. The original Mini sells for $2,995.
While the Google brand has helped the Mini gain traction, the aggressive pricing of the appliance has helped it as well, Shetf added. "The relevance of the results is better than anything in the market," he continued. "Businesses know they can get access to a lot of engineers who spend all their time just thinking about ways to improve search."
Google Enterprise has quietly amassed a broader spectrum of products and, indirectly, services over the past year, recently launching a partner program to essentially create Google-certified systems integrators and technology consultants. It also struck a partnership with IBM that integrates Google search into Big Blue's middleware products.
Google has acknowledged the challenge of breaking into the enterprise segment from its consumer background, but pointed out that it now has some 2,000 corporate customers. While the enterprise unit is still a fraction of Google's overall revenue, the business line is already profitable.
Happy Trails
Some of those gains have been made with aggressive discounting, including a promotion in which Google gave away Mini search appliances to corporations that bought one of its upper-end search products, which sell for $30,000 and up.
It's not surprising that companies such as small law firms or even offices with just a handful of employees can eclipse the 100,000-document levels, Shetf said. "I probably have 100,000 documents on my desktop alone, so it's easy to see how a company can surpass that level very quickly," he commented.
Minis are now powering a range of Web-facing search functions tailored for intranets, university settings and branch offices of larger companies, Shetf concluded. They are also finding acceptance in the e-commerce space.
The Google Mini replaced a SQL-based search tool that had to be hidden from Web users because it was returning inaccurate results when they searched for key terms in a database of maps and guidebook chapters, according to Neal Bozeman, director of technology at Trails.com.
"The biggest issue we had was pulling back the specific information that users wanted," Bozeman told the E-Commerce Times. With the existing tool, when trail names were misspelled or the a park's state was misidentified by a customer, often no results at all would be returned.
Trails.com now uses three Minis, Bozeman added, and will likely expand to more given the increase by several percentage points in customer conversions on the site.
Looking Fetching
Another e-commerce site, Toolfetch.com, which sells construction equipment and supplies, saw a 15 to 20 percent increase in sales and a 30 percent increase in the number of searches conducted on the site, CEO Andrew Brown told the E-Commerce Times.
The Mini was a major upgrade over an earlier, in-house system, Brown said. For instance, if a customer typed in "lazer" or another misspelling, the search would return no results. The new search will check spelling, offer users the chance to correct the word, and provide an extensive list of products that use lasers.
"We were missing a lot of sales that way — and that's just one example," Brown said.
"A good percentage of our customers come into the site and go straight to the search box," he added. "What makes Google search really good is the sort of look and feel of 'Google is there.' Most people are used to Google, so it's much easier to navigate."