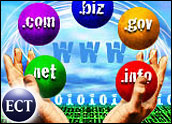 Domain name registrar and Web site hosting firm GoDaddy has reached an agreement to take over tens of thousands of domain names maintained by a rival firm that is about to lose its accreditation to register and host Web addresses.
Scottsdale, Ariz.-based GoDaddy reached an agreement with the Internet Corporation for Assigned Names and Numbers (ICANN) and RegisterFly to take over domains from that registrar that had been in a sort of limbo for several weeks.
ICANN estimates that some 850,000 domain names will be transferred to GoDaddy's control after the switch is completed. Customers are being notified of the shift, which is being brought about by financial woes and other problems at RegisterFly.
A Difficult Situation
Thousands of domain name owners have been unable to renew or transfer their domains to the control of another company because of problems at RegisterFly, said ICANN President and CEO Paul Twomey.
"The situation has been extremely difficult — first and foremost for registrants, as well as for the entire registry and registrar community," he explained. ICANN had been asking for input from firms interested in taking over RegisterFly's portfolio of domains, Twomey noted, adding that various options were explored, including possibly divvying up the firm's domains among other accredited registrars.
"The GoDaddy.com agreement is a better solution for RegisterFly customers since it's a direct and automatic transfer to a competent and experienced customer service-oriented organization," Twomey said.
Cooperation Cited
ICANN has the cooperation of several other players in the domain name business to make the transfer possible, the group said. Afilias and VeriSign, the top-level registries that hold the most names reserved through RegisterFly, have agreed to give up "considerable fees" that would normally be charged for transfer. In addition, generic top level domain registries such as GNR, NeuStar and PIR also moved to prevent names under the control of RegisterFly but approaching their expiration dates from being deleted.
Another registrar, Tucows, contributed data and expertise to help come up with a solution, ICANN added.
GoDaddy offered to handle the transfer en masse after hundreds of Web users flooded GoDaddy CEO Bob Parsons' blog with postings asking for help, Parsons said. "It's what many RegisterFly customers asked us to do," he noted.
Mounting Woes
Miami-based RegisterFly has been struggling for some time, but saw its problems escalate over the past several months. ICANN first began receiving customer complaints earlier this year, ICANN spokesperson Andrew Robertson told the E-Commerce Times. The group's ombudsman issued an online response to some of the issues at that time, but the group said it did not have direct control of RegisterFly's activities as a reseller at that time, Robertson noted.
In late April, a U.S. Federal judge granted ICANN the right to yank RegisterFly's accreditation, and to transfer domains away from the company. Even before that move, many rival registrars had been offering low-cost transfers to give users the option of moving their domains to new digs. Those transfers had been complicated, however, by RegisterFly's in-house problems.
Those problems include allegations of fraud and that RegisterFly aggressively cajoled customers to purchase upgraded services. Some customers complained to ICANN that they missed deadlines for renewal of domains, only to see those domains transferred to a company owned by RegisterFly CEO Kevin Medina, who then offered to sell the domains back at a higher price.
Rapid Growth
Though it is portraying itself — with help from ICANN — as a savior for RegisterFly customers, GoDaddy stands to gain from the move as well. It discounts registration — and shares those fees with VeriSign and others — and makes most of its money by selling related services, such as Web hosting and Web site design.
GoDaddy, once best known for its racy TV spots — some of which were not allowed on television and made a splash as Web video clips instead — is experiencing rapid growth on its own as well, recently saying it had registered more than 1 million new domains in April alone.
The RegisterFly episode is another sign that ICANN still has work to do to get the domain system under control; however, the system, by and large, works as designed, Forrester Research analyst Charlene Li told the E-Commerce Times.
"Operating the entire domain system is a massive undertaking, and any agency that had that responsibility would have its difficulties along the way," she said.