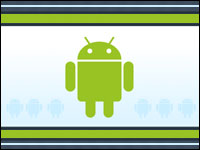 Google's Android operating system grabbed a strong 25.5 percent of the worldwide smartphone market, making it the No. 2 OS globally in the third quarter of 2010, according to a study released by Gartner on Wednesday. That's up from a mere 3.5 percent share of the market in the third quarter of 2009.
The third quarter produced record sales of more than 81 million devices based on open operating systems.
Nokia's Symbian held onto the No. 1 position globally, with 36.6 percent, but the company is bleeding share. During the third quarter of last year, Symbian held 44.6 percent.
Apple's iOS took the No. 3 OS spot worldwide, soaring ahead of Research In Motion.
Global sales of mobile phones overall increased 35 percent year-over-year. The third quarter of 2010 was the third consecutive quarter that device sales grew in the double digits.
Though it maintained its No. 1 position, Nokia fell from from 36.7 percent of the global market in the third quarter of 2009 to 28.2 percent in the third quarter of 2010.
Smartphones Sales Soar
Smartphones fired up the hottest part of the market. Apple sold an impressive 13.5 million units, taking fourth place in device sales worldwide, behind Nokia, Samsung and LG, and ahead of Research In Motion.
While Android has been associated with North America — it accounted for 75 to 80 percent of Verizon Wireless's smartphones sold in the third quarter — the operating system is beginning to travel.
"Android is certainly gaining traction in Western Europe now that vendors such as Samsung and Sony Ericsson have increased their product portfolios that support Android," said Gartner's Carolina Milanesi, research VP for mobile devices technology and service provider research.
"Apple is also moving across the pond," she told the E-Commerce Times. "The iPhone has been doubling its volumes in Western Europe, Asia Pacific and Japan over the same time a year ago."
No Stopping Android
Android's zoom to second place was quite a move in one year.
"Right now, it's hard to see what would slow the march of Android," said Michael Morgan, senior analyst for mobile devices at ABI Research.
"I'm not seeing much to stop them with Sybian deflating," he told the E-Commerce Times. "BlackBerry is reaching a peak to their adoption. Unless they bring something to the table, they will continue to lose marketshare."
Now that it has reached second place, the Android OS may find itself in an entrenched position in an expanding market.
"Android and the smartphone are exploding," noted Morgan. "Growth rates can't go on forever, but I would be surprised if Android didn't sit at number two for a while — not just this quarter, but going forward. The only thing that would stop Android is iOS, but iOS and Apple have limited distribution and a limited market."
RIM Needs to Juice Up BlackBerry
In order to compete against Android-based phones, Apple and the emerging Windows Phone 7, RIM may have to add some surprises to the BlackBerry.
"RIM is going to have to work harder to keep its existing customers and expand," Laura DiDio, principal analyst at ITIC, told the E-Commerce Times.
"RIM is challenged now to raise the bar and come out with an exceptional feature or look. They will have to work with carriers on promo plans to entice customers."
To grow, RIM may have to boost interest in both the consumer and enterprise markets.
"The kids are enticed by glitzy colors, while a knowledge worker says, 'I need a package that will have more roaming and I need to be able to send large files,'" said DiDio.
Anything can happen in a volatile market, though — today's king could be tomorrow's pauper.
"Is Android going to grab significant market share? Yes," said DiDio. "But it's a highly contested market — the most hotly competitive market out there. There are highly entrenched, highly powerful players. It's a real slugfest for the competitive future."