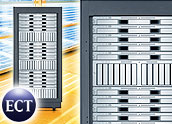 Server sales rose again in the second quarter as demand remained strong around the world, according to a report from research firm Gartner that also showed Dell and Sun Microsystems making gains along with the Linux operating system.
Suggesting that at least some parts of the technology sector remain robust, Gartner said sales rose nearly 8 percent in the second quarter over year-ago levels, surpassing $11.5 billion. The number of servers shipped grew even more quickly, rising to 1.6 million units, a jump of 24.5 percent over last year.
Gartner said IBM and Hewlett-Packard held onto their top two positions in the market, but that some shifting of market share took place, with relative upstarts such as Dell and a revived Sun Microsystems making the biggest gains.
Gartner analyst Mike McLaughlin said demand for lower-end server models was strong as was interest in servers running 64-bit chips.
"Overall, each region showed positive year-over-year growth in terms of revenue," McLaughlin said.
Still on Top
IBM held tight to its top ranking for server revenue, laying claim to a 30.7 percent market share in the quarter. HP — which topped the charts in terms of units shipped — remained in second place on the revenue list with 27.3 percent. Sun, at 13 percent, Dell, at just under 10 percent, and Fujitsu, with less than 5 percent market share, round out the top five.
But in terms of growth, Dell and Sun took top honors.
Dell saw the strongest gains in sales, with growth of just over 20 percent, to $1.13 billion, with its strength in the small- and midsized-business markets providing some of the growth fuel.
In terms of server units, Sun saw the largest jump, with shipments up 38.4 percent as its Netra product line did well among telecommunications companies and its higher-end servers running the older Unix operating system sold well in the financial services sector.
Analysts have long predicted that Dell's price-first approach that has propelled it to the top of the consumer PC segment would translate well to the server space. And HP acknowledged in its latest earnings announcement that it had stumbled in the server space due to internal issues.
"Dell took advantage of the weakness that was caused by the HP mistakes," Enderle Group analyst Rob Enderle told the E-Commerce Times. "There is clearly pressure from Dell on HP and others in the space."
More Linux
Gartner said Linux revenue grew more than 54 percent in the quarter, with server shipments up 61 percent on a unit basis. Linux servers made up just a shade under 10 percent of the overall revenue, compared to 34 percent for Windows and 4.3 percent for Unix, a sharp decline from last year.
Servers loaded with AMD chips were also big winners in the quarter, with Opteron-loaded machines selling well as more vendors adopted the chip, but still ran second in the low-end space behind Intel's Xeon.
Yankee Group senior analyst Dana Gardner said Sun is benefiting from several factors, including its decision to adopt the Opteron chip and to target enterprises with products that have lower price tags.
"Sun took a look at its strategy," Gardner told the E-Commerce Times. Previously, it focused more on high-end performance, a message sometimes lost on cost-conscious customers. "So far, it's paying off."