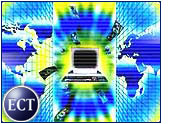 In an effort to build consumer confidence in e-commerce, the U.S. Better Business Bureau (BBB) and two leading European business organizations announced Monday that they are developing a "trustmark" program to provide international standards for Internet transactions.
The project is being undertaken by the online division of the BBB, as well as the Federation of European Direct Marketing and Eurochambres, an association of European chambers of commerce.
The three groups said that they would merge their codes of conduct to signify that an online business upholds specific business standards, including cross-border dispute resolution standards.
Participation in the program — which will establish benchmarks for reliability, truthful advertising, user privacy and customer service — would be voluntary. The groups said they hope to have the entire program in place by early next year.
"This initiative promises broad acceptance from merchants and consumers," FEDMA director general Alastair Tempest said.
"Once businesses understand the clear guidelines that will help them encourage consumer confidence in e-commerce, we believe many companies will comply," Tempest added. "Consumers are eager to know how to identify trustworthy Web sites, and to be assured that the business has committed to abide by a code of conduct that provides a high level of protection for their purchases."
Seal of Approval
In a joint statement, the three groups said that their mission is to help businesses implement "consistently high online standards" using a "single, internationally recognizable" emblem.
They added that the common framework will help reduce consumer confusion over the proliferation of trustmarks and conflicting standards from country to country.
Companies that agree to adhere to the initiative's business practice guidelines — which will be similar to the online codes already issued by the BBB and FEDMA — will be permitted to display the trustmark on their Web sites. Businesses that violate the code could have their trustmarks revoked.
International Footholds
More than 9,800 businesses have qualified to display the BBBOnLine Reliability Seal, while FEDMA represents more than 10,000 companies through its members.
The groups noted that the Italian and Belgian Chambers of Commerce have already developed codes of conduct, and other chamber networks are joining the venture. The standards also will be consistent with those recommended by the Organization for Economic Cooperation and Development and the Global Business Dialogue on E-Commerce, the organizers said.
"The worldwide success of e-business depends on consumer trust," said BBBOnLine president Ken Hunter. "This initiative's goal is to create common standards, a consistent (alternative dispute resolution) framework and a recognizable trustmark upon which every online shopper, no matter what their base of operation, can rely."
Building Alliances
In the coming months, the three organizations said they will work towards establishing common eligibility standards for companies to display the international trustmark, and will ensure that internationally compatible dispute resolution procedures will be available.
The groups also said they will work closely with the European Commission, business groups and consumer rights' associations to develop the conduct blueprint.
"Our three organizations have long championed both off- and on-line confidence among consumers," said Eurochambres secretary general Arnaldo Abruzzini. "Developing common guidelines that can provide the international business community with an effective self-regulation tool is the logical next step."