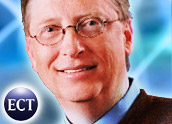 Delivering a message that may be aimed at inspiring employees or reassuring investors, Microsoft Chairman Bill Gates said his company is being "underestimated" as it launches products into the market dominated by search giant Google.
The "Microsoft-as-Underdog" motif may be hard for some to swallow, given the company's long and storied history, including the ongoing effort to beat backantitrust allegations that have dogged it for years both in the U.S. and overseas.
Keeping Them Honest
Gates acknowledged that Google's search and advertising products and services are impressive, adding that Microsoft can and will do better in some areas.
"I think this is a rare case where we're being underestimated," Gates said in a talk to advertising executives during Microsoft's two-day summit on interactive advertising and online media.
"They've done a great job on their search and what they've done with advertising," he added. "We will keep them honest in the sense of being able to be better at a number of those things."
The comments come a week after CEO Steve Ballmer wrote a memo to employees emphasizing the importance of Microsoft being able to compete effectively with Google.
In fact, to some extent, nearly every move Microsoft makes in the search and advertising space — including the recent hiring of former Ask.com CEO Steve Berkowitz to head MSN and related units — is being scrutinized in the context of its competition with Google.
Rolling Out adCenter
Gates suggested that time is on Microsoft's side in some ways, with search technology and the advertising industry around it still in the nascent stage of existence.
"We'll look back on this time and realize that search is pathetic," Gates said. "It's great for where it is, but it will get so much better. Right now, there's no way to qualify results by authority, by trusted sources."
Gates' comments came as he began demonstrating MSN adCenter — Microsoft's entry into the self-service online ad ordering and delivery platform arena — to executives gathered at the summit.
Last week, a memo from Ballmer to Microsoft employees sounded a similar note. "While our opportunities are greater than ever, we also face new competitors, faster-moving markets and new customer demands," Ballmer wrote.
The theme of out-innovating Google was a major focus of the summit, with Christopher Payne, the MSN Search corporate vice president, saying that improving search technology is the only way Microsoft can gain a larger audience share. It currently ranks third behind Google and Yahoo.
"I'd like not to be in the No. 3 spot, and I think the key to not being in the No. 3 spot is innovation," he said, as he prepared to demonstrate MSN Search upgrades to be rolled out in coming months — including better search algorithms for finding images and for manipulating maps.
Is Money Enough?
Microsoft laid out plans to give advertisers access to a host of opportunities, from the MSN content portal to Windows Live Spaces, Windows Live Safety Center, Windows Live for Mobile, Office Live and Office Online, and Xbox.com.
Microsoft is poised to invest more than US$2 billion in search and related technologies in the next year, prompting the general observation that it could build a company the size of Google or Yahoo with those resources.
With that kind of cash and speculation on how it could be used — fueled this week by reports that Microsoft and Yahoo have talked about an expanded partnership — Microsoft seems an unlikely underdog, said Enderle Group Principal analyst Rob Enderle.
"Microsoft is not used to playing catch-up or having to answer questions about why another company has what's perceived as better technology," he said. "This is new territory for them."