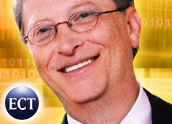 Microsoft Chairman Bill Gates is calling on Congress to create a sweeping privacy law this year which would give consumers increased control over how their personal information is used by third parties.
Speaking at the annual meeting of the Center for Democracy and Technology (CDT) on Wednesday, Gates also said financial institutions, governments and other organizations should be required to notify consumers if their data is compromised or stolen.
Microsoft has advocated for such a law in the past, backing federal legislation to cover the type of database-breach notification laws now in place in many states, for instance.
Such a law would change current regulations which require many types of businesses to inform customers about privacy policies and to allow them to opt out of sharing their personal information.
On the other hand, any law would have to juggle consumers' right to control their data with the needs of law enforcement agencies which use that data to protect the country in an age of terrorism, said Microsoft's cofounder.
"These privacy issues are not as easy as you might think," he said.
Privacy was the second thorny issue Gates tackled during his day in Washington D.C., earlier pressuring lawmakers to allow more highly educated and skilled workers to enter the country to work.
Learning from HIPAA
Any new privacy law would need to be an improvement over earlier efforts, such as the Health Insurance Portability and Accountability Act, or HIPAA, Gates said.
Passed by Congress in 1996, HIPAA severely limits how medical records can be shared. However, patients are often repeatedly asked to waive their HIPAA rights to allow doctors to share information with one another during treatment.
Gates was joined by Sen. Patrick Leahy (D-Vt.), who said privacy laws must be written in a way that allows for technological advances but also protect citizens from government spying as well as criminal acts.
The CDT recently called for a strong national database breach notification law as part of its agenda for the current Congress.
In addition to notification requirements, legislation should also include a mandate that companies put preventive measures in place, borrowing from the Gramm-Leach-Bliley Act of 1999, which requires such measures for financial services firms, said the CDT.
In addition, any new law should address how government agencies can use commercial data repositories and map out a strategy for moving away from using Social Security numbers as a universal identifier, a practice that raises risks of identity theft, the CDT noted.
Gates the Lobbyist?
There appears to be strong support for broader privacy protections for consumers, but figuring out how such a law would work will require careful study of all issues, including the fact that consumers often willingly provide their personal data for purchases and other uses, Gartner analyst John Pescatore told the E-Commerce Times.
Some groups have even called for a Constitutional amendment to lay out privacy rights, though the prospects for such a measure seem remote, Pescatore noted, adding that there is strong support for additional privacy measures of some kind.
Gates' speech on privacy laws was his second major policy statement of the day. Earlier, he appeared before Congress to lobby for the expansion of the H1B visa program, which provides temporary work visas to nonresidents.
He told the Senate's Committee on Health, Education, Labor and Pensions that the current immigration restrictions are depriving the U.S. of well-educated workers who could provide a boost to the country's economy, pointing out that great minds such as Albert Einstein were born abroad but did their work on behalf of America.
"The contributions of such powerful intellects has been vital to many of the great breakthroughs made here in America," he said. "Unfortunately, our immigration policies are driving away the world's best and brightest precisely when we need them most."
Microsoft and other technology companies run through the annual allotment of visas quickly, Gates stated, making it unlikely Microsoft could hire any recent college graduates under the program.
"We have had the amazing good fortune to live through a period of incredible innovation and prosperity," he told the committee while also calling for additional investment in education and training. "We must not squander this opportunity to secure 's continued competitiveness and prosperity."
Through their foundation, Gates and his wife Melinda are known for investing billions of their personal fortune in education and public health initiatives worldwide.
With his duties at Microsoft already reduced, Gates may be poised to use his reputation to become a strong advocate for tech-friendly government and business policies.