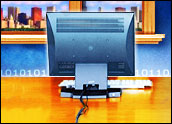 Worldwide PC shipments are expected to slow in 2005 as the latest replacement cycle ebbs, Gartner says. However, the research firm still predicts 9 percent growth as compared to last year.
Gartner expects shipments of mobile PCs, such as laptops, to drive market growth by increasing 17.4 percent in 2005. Meanwhile, desk-based PC shipments are only forecast to grow 6.1 percent.
"We believe professional replacement activity peaked in 2004 and will decelerate sharply over 2005. While home replacement activity will continue to provide some strength to the market in 2005, it, too, seems likely to slow by year-end," said George Shiffler, principal analyst for Gartner's Client Platforms research.
Mobile PC Growth Outpaces Desktops
Illuminata analyst Gordon Haff told the E-Commerce Times that the days when even the fastest PCs were not fast enough to run the latest software seem to be long gone.
"Every small performance increment was once a direct benefit," he said. "Now, does it really matter if you have a 2 gigahertz PC or a 3 gigahertz PC? Even older PCs are good enough at this point."
Shiffler said mobile PC unit growth should outpace desk-based growth considerably again this year. Mobile PCs are becoming increasingly attractive to a broad range of users due to rapidly falling system prices, enhanced wireless experiences, and expanded multimedia/entertainment functionality, according to Gartner.
"Things are not going to get better in terms of the margins for traditional PC vendors," Haff said. "Notebooks are not quite as commoditized as desktop PCs, and many vendors have successfully driven more and more of their business toward notebooks, but to some degree the same replacement cycles apply to this category."
New Breed Computing
Analysts said game consoles, media hubs and wireless devices are seeing growth and should continue to do well as PC sales wane.
"Market growth could prove stronger if PC manufacturers are somehow able to position the PC as a digital media hub," Kiyomi Yamada, analyst for Gartner's Client Platforms research, said. "However, we are skeptical that PC vendors can take advantage of this opportunity."
Yamada said media PCs remain relatively expensive and suffer from spotty reliability as well as troublesome ease-of-use. PCs are also handicapped by low interoperability with other media devices and poor aesthetics, she said, and this is hurting their ability to compete against alternative devices that are both cheaper and more readily connected to media sources.
"IBM getting out of the PC business is one indication that it's hard to make money, and that's going to be a discussion at HP as a new CEO comes in," Haff said. "HP's PC business is a low-margin business, and results such as this tend to say it's not going to get a whole lot better."