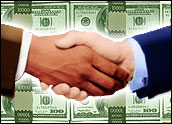 Revisiting a well-worn trend of consolidation in the information technology analysis industry, Gartner has said it would acquire Meta Group in a deal worth US$162 million.
The all-cash deal, which Gartner said it would fund with money it has on hand and a line of credit, values Meta Group stock at $10 per share, at a premium of more than 50 percent over its closing price from last week.
A spokeswoman for Gartner declined to comment on details of the merger, including whether there would be any layoffs of analysts or back-office staff as a result.
Consolidation Likely
Some consolidation seems likely, however, at least at the headquarters level, as the firms both are based in Stamford, Connecticut. The two companies also have overlap in their scores of remote office locations around the U.S. and overseas and often have overlap in the subject area of their various analysts.
Still, Gartner said part of Meta's value was to bring added geographic diversity as well as a broader range of product and service offerings to complement those it already offers. Clients pay hundreds or thousands of dollars for general industry reports, and more for customized research, that is used by businesses to help decide strategic moves in IT purchases and helps IT vendors target would-be customers.
Both companies had begun to stabilize after dips in 2001. Last year, Meta Group had sales of $122 million while Gartner brought in $858 million.
Gartner CEO Gene Hall said the companies' similarities — including their shared home town — will "allow easy integration." The result will be "increased depth in key sectors, geographies and markets, and an increased ability to seize revenue opportunities with the addition of Meta Group's well-trained, successful sales force.
Earnings Boost Expected
"The acquisition will make Gartner a stronger company with increased opportunities for growth and greater resources to offer clients," Hall added.
Gartner said the acquisition would boost earnings after 2005 and promised more details when it announces financial results for the fourth quarter in February.
Shares of Meta Group soared on news of the deal, rising 51 percent today to $9.83. Both classes of Gartner shares were also higher by about 1 percent.
The move comes long after a wave of consolidation dramatically reduced the number of large IT analysis firms.
In the months after the dot-com implosion, a host of firms, particularly those focused on analyzing Web trends, were sold, many at bargain-basement rates. For example, Jupiter Research sold its Media Metrix unit to comScore for $1.5 million
Wave of Mergers
The impact was felt by firms that had a more rounded menu of IT offerings. Forrester Research, which went through several rounds of layoffs, bought Giga Information Group in February of 2003, for instance.
Now, the Gartner move comes amid another wave of mergers and acquisitions, this one affecting nearly every industry sector, from wireless carriers to software makers.
In one week in December, some $85 billion worth of M&A deals were announced, and 2004 was on pace to be the busiest year for mergers since 2000, according to Thomson Financial.
The firm says around 7,700 deals had been announced through Christmas week, with a combined value of $742 billion. That's still well below the $1.6 trillion peak the M&A market hit in 2000, but well ahead of last year's levels when 7,500 deals were done with a total price tag of $543 billion, and 2002, when just $429 billion worth of deals were made.
Like all mergers of consulting firms, the Meta/Gartner marriage will face special challenges, said M&A expert Larraine Segil of Vantage Partners. "Consulting firms typically have some of the strongest corporate cultures and sometimes it's difficult to make them fit," she said.
M&A Plus IPO
However, others have succeeded in the tech field. IBM made waves by buying consulting powerhouse PricewaterhouseCoopers in 2002 for $3.5 billion, and although it laid off thousands of consultants, the buy has helped put Big Blue at the forefront of the IT services industry.
Current Offerings analyst Jeffrey Hirschkorn noted that the recent spate of mergers comes as initial public offering activity also heats up, with the second week in December one of the busiest of the year and one of the most active in nearly four years for IPOs. The same trends driving M&A activity might also help make 2005 a busy year for IPOs, he added.
The IPO market heated up quietly, however, without much of the drama and splash that accompanied the Google IPO over the summer. That steady progress makes some analysts believe 2005 can be another strong year since there was no over-reaction to the success of Google's offering.
"After a year of rebuilding and across the board sector success, investors should begin to clamor for shares of some interesting deals in registration," he said. "This was one heck of a year to start a new bull run in the initial public offering market."