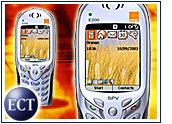 With good momentum already in the United States and worldwide, a new report from In-Stat/MDR suggests that mobile gaming, while remaining a niche market, will continue its rise as a key contributor to wireless data usage and revenues.
The research firm estimates that by 2009, mobile gaming services in the United States will generate US$1.8 billion annually, or approximately 4.4 percent of total wireless data revenues.
Additionally, the report points out that by 2009, 78.6 million wireless subscribers in the United States will play mobile games, and gaming downloads will increase more than tenfold from 2003 levels.
Mobile Gaming Evolution
"Mobile gaming has come a long way since 'Snake' was first deployed on wireless handsets in 1997," said In-Stat/MDR's director of wireless research, Clint Wheelock.
In-Stat/MDR's recent study revealed that, at present, 6.5 percent of U.S. wireless subscribers are extremely or very interested in purchasing mobile gaming services.
According to Wheelock, "This level of interest clearly identifies mobile gaming as a niche opportunity for wireless carriers, application developers and content producers."
In-Stat/MDR also found that unlike with other emerging mobile multimedia services, such as video and music, consumers interested in mobile gaming do not necessarily match the classic early-adopter profile.
Mobile Gaming
The report also suggests that consumers interested in mobile gaming are likely already to be wireless data users that own handsets with color displays, camera-phone functionality and multimedia capabilities.
On average, the report says, they are younger and more likely to be male than the general wireless subscriber base.
The report, "Mobile Gaming Services in the U.S., 2004-2009," includes survey results and analysis from In-Stat/MDR's consumer mobility study, including willingness to purchase mobile gaming services as well as preferences for specific gaming genres.
The report also analyzes trends in mobile game content development, as well as key elements of the gaming user experience.