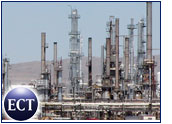 Anadarko Petroleum Corporation announced that it has agreed to divest certain U.S. onshore properties to undisclosed parties for US$850 million in cash and interests in two oil and gas fields in Wyoming.
The transaction, effective September 1, 2004, will include an estimated 108 million barrels of oil equivalent (BOE) in proved reserves as of year-end 2003, and current daily net production of about 38,000 BOE, located in approximately 180 fields across Texas, Oklahoma, Kansas, Wyoming, Utah, Louisiana and Alabama.
The properties to be divested include about 30 percent of Anadarko's fields worldwide, but only 4 percent of year-end 2003 reserves and 7 percent of current production.
Cash and Interests
As part of the sale, Anadarko will receive cash, as well as the buyers' interests in the Brown Cow and Hartzog Draw fields in Wyoming representing 2 million BOE of proved reserves and an estimated 7 million BOE of probable reserves.
"This agreement marks another significant milestone in the execution of our refocused strategy. The divestiture of nonstrategic properties allows Anadarko to focus on areas that have consistently produced the best results for us, as well as new growth areas," said Anadarko President and CEO Jim Hackett.
"We're pleased with the terms of this transaction and the early execution, which keep us on target to generate at least $2.5 billion in after-tax proceeds from our divestiture program."
Other US Assets
Other U.S. onshore assets targeted for divestiture, but not part of this sale, include a separate package in Southeast Colorado, the West Panhandle and Slaughter fields in Texas, and exploration acreage in the Deep Hugoton basin in Kansas and Oklahoma.
These assets are in various stages of monetization: Data rooms remain open for Southeast Colorado, with bids due September 21; the Texas assets are being held for ongoing property trade discussions; and the Deep Hugoton exploration acreage remains available for third-party proposals.
The transaction is subject to normal closing conditions and purchase price adjustments, including preferential right elections. Closing is expected by December 1, 2004.
Transaction advisors for Anadarko for this sale are Deutsche Bank Securities and Randall & Dewey.